Taichung lake being illuminated
The Taichung City Government is to install colorful LED lights in and around Rihyue Lake (日月湖) and activate them on Aug. 17, in time for Lovers' Day, the Taichung Construction Bureau said.
Last year, the city government finished cleaning Rihyuehu, the city park's lake, and with the lake now cleaned, the city has set its sights on further beautifying the park with lights, which cost NT$5.66 million (US$186,270), the bureau said.
The lights are being installed on the shore, in the lake's central pavilion, the park's fountain, and the Jhongshan (中山) and Jhongjheng (中正) bridges, it said.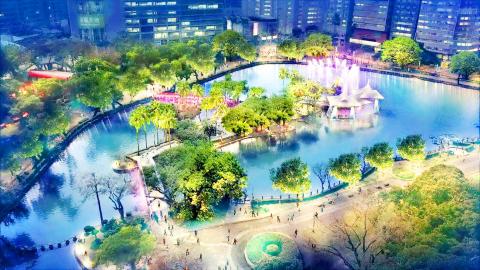 An artist's rendition of Rihyue Lake in Taichung Park shows what it would look like with new colorful LED lights.
Photo: Chang Ching-ya, Taipei Times
The project highlights the park's main attractions while improving illumination, it added.
The additional LED lamps in the pavilion are being installed in a way that preserves the contours of the historic structure and make the nighttime scene more eye-catching, the bureau said.
Red, blue and green lights are being installed at the bottom of the lake, with "smart" controls that change the number of lights activated according to the time of day, while the fountain's lights would be activated all day, it said.
Different types of lighting schemes are being installed at Jhongshan and Jhongjheng bridges to highlight their distinct aesthetics, with the former being a Japanese-style timber structure and the latter a Chinese-style brick structure, the bureau said.
Lights are also being installed on the footpaths around the lake, including some on trees, the bureau said, adding that the wiring is being carefully wound around tree trunks to avoid harming the trees.
Taichung Construction Bureau Director-General Huang Yu-lin (黃玉霖) said the lights would be automatically turned on at night, but some, except those providing illumination on footpaths and bridges, would be switched off in rotation to preserve energy.
Different lighting patterns would be used at special events, activities and festivals, she said.
Comments will be moderated. Keep comments relevant to the article. Remarks containing abusive and obscene language, personal attacks of any kind or promotion will be removed and the user banned. Final decision will be at the discretion of the Taipei Times.