Clam farmers protest energy plan
MONEY RULES? Landowners in Tainan's Cigu District charge clam farmers NT$30,000 per hectare per year, but many energy developers offer 10 times that amount, a tenant farmer said
Clam farmers from Tainan's Cigu District (七股) yesterday rallied in front of the Executive Yuan in Taipei to protest against its agrivoltaic development plan, saying that they are losing jobs, as many landowners have leased their land to energy developers.
Clam farms in the district cover about 1,200 hectares, a quarter of which has been leased or sold to energy developers, said Cigu Coastal Land Resources Protection Association chairman Yang Hui-chin (楊惠欽), who led about 80 protesters.
While landowners charge clam farmers NT$30,000 per hectare per year, many energy developers offer 10 times that amount, clam farmer Kuo Yung-ching (郭永慶) said.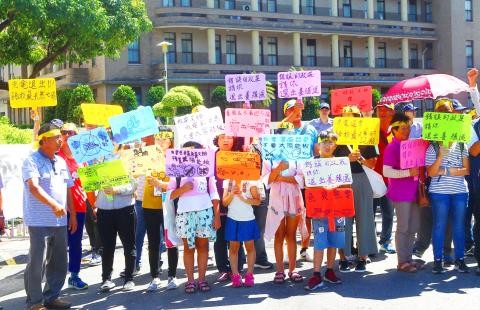 Clam farmers from Tainan's Cigu District yesterday protest in front of the Executive Yuan compound in Taipei.
Photo: Wang Yi-sung, Taipei Times
The habitats of black-faced spoonbills — one of Cigu's tourist attractions — would also be damaged if more clam farms turn into solar farms, he said.
"No farming activity, no solar installations" is the government's principle in promoting agrivoltaic systems, Ministry of Economic Affairs' Bureau of Energy section chief Yan Wei-hsu (顏為緒) said at a public hearing at the Legislative Yuan in Taipei yesterday afternoon.
Installation proposals should be approved by agricultural agencies before developers install solar panels on farms, Yan added.
The hearing was convened by Democratic Progressive Party legislators Chen Man-li (陳曼麗) and Chen Ting-fei (陳亭妃) to determine how green energy installations and fish farming could coexist.
The Council of Agriculture and National Chiayi University are testing the effects of building solar panels on clam farms, council Department of Planning senior specialist Huang Hsin-ta (黃新達) said.
Once the test results are revealed by the end of this year, the council would announce reviewing standards for agrivoltaic projects, Huang said.
A farm with solar installations should have yielded at least 70 percent of its average crop production over the past three years, Huang added.
Angered by the officials' responses, farmers at the hearing demanded an immediate solution.
About 70 percent of tenant farmers in the district have received notices from landowners that farming contracts are to be terminated by the end of this year, while the government could not present solutions, Yang said.
Instead of working with local farmers, some energy developers have contacted fish farming firms, asking them to help achieve the required amount of agricultural production, aquaculture firm Thetis Co project manager Alex Lin (林青丘) said.
Before adjourning the hearing, the lawmakers suggested that the bureau and the council set up a communication platform for concerned parties, adding that they should prioritize energy projects that work with local farmers.
Comments will be moderated. Keep comments relevant to the article. Remarks containing abusive and obscene language, personal attacks of any kind or promotion will be removed and the user banned. Final decision will be at the discretion of the Taipei Times.