Breast cancer team finds metastasis mechanism
NEW HOPE: A team of researchers has identified an enzyme that regulates a metabolic switch that controls the development and metastasis of breast cancer cells
The National Health Research Institutes (NHRI) yesterday said its researchers have discovered a mechanism that reduced the relapse and metastasis of triple negative breast cancer (TNBC) in animal testing, with future experiments to show whether it might have the same effect on the human body.
Breast cancer has been the cancer with the highest incidence rate among women for many years, while TNBC is more difficult to cure, because it can often relapse or metastasize, Ministry of Health and Welfare data showed.
The research team, comprising researchers from the NHRI, China Medical University and National Taiwan University Hospital, identified an enzyme called transketolase (TKT), which regulates the metabolic switch that controls the development and metastasis of breast cancer cells.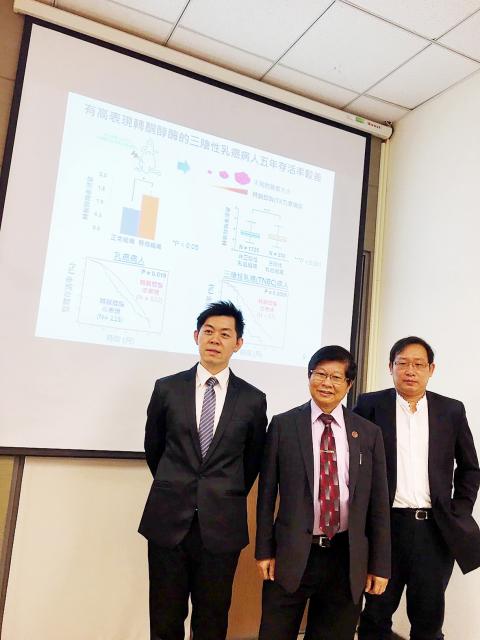 National Health Research Institutes Honorary Fellow and China Medical University vice president Wang Lu-hai, center, poses with colleagues Tseng Chien-wei, left, and Kuo Wen-hung in Taipei yesterday.
Photo: Lin Hui-chin, Taipei Times
About 85 percent of the glucose metabolism pathway in normal cells involves granulocyte aerobic respiration and about 15 percent involves glycolysis, whereas the pathway in cancer cells often has increased rates of glycolysis, said team member Wang Lu-hai (王陸海), an NHRI honorary fellow and China Medical University vice president.
While metabolic reprogramming is recognized to fuel cancer cell growth and proliferation, little is known about metabolic enzymes and oncometabolites (metabolites associated with a cancer) that regulate breast cancer metastasis, and very few metabolic molecules have been identified as potential therapeutic targets, the team said.
In their work, the team identified that TKT expression correlated with tumor size, with its expression being higher in lymph node metastases, compared with a primary tumor or normal tissue, and high TKT levels being associated with poor survival.
The team also discovered that various combinations of TKT inhibitors enhanced cell death in breast cancer cells, especially in TNBC cells, showing that there is a TKT-mediated pathway that regulates breast cancer cell growth, which could be further developed as a way to improve breast cancer therapy.
However, the results are only based on animal testing, Wang said, adding that the team would need approval to conduct experiments on human cells before advancing to clinical trials.
Comments will be moderated. Keep comments relevant to the article. Remarks containing abusive and obscene language, personal attacks of any kind or promotion will be removed and the user banned. Final decision will be at the discretion of the Taipei Times.