Parasitic isopod found on shrimp
A team from the National University of Tainan and Japanese researchers have determined that a species of isopod found attached to shrimp near Yilan County is the first of its kind discovered in Taiwan.
The team, led by Department of Biological Sciences and Technology associate professor Huang Ming-chih (黃銘志), was joined by Japanese researchers Nobuhiro Saito and Michitaka Shimomura.
Fishers who first encountered the yellow parasitic isopod, which attaches just behind a sakura shrimp's head, 10 years ago off the county's Gueishan Island (龜山島) thought it was an egg sack.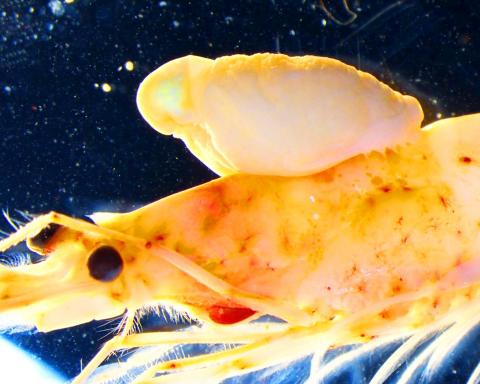 An isopod louse identified as Holophryxus fusiformis attached behind the carapace of a sakura shrimp is pictured in an undated photograph.
Photo courtesy of Huang Ming-chih
The first recorded discovery of an isopod louse was in 1937 by Japanese marine biologist Sueo Shiino, who found one attached to a red shrimp in Suruga Bay in Japan's Shizuoka Prefecture.
The discovery of the isopod in Taiwanese waters is the second recorded discovery of the species worldwide, Huang said, adding that fishers call it a kernel of corn because of its size and color.
The parasite is detrimental to the fishing industry, as it tends to lower the value of shrimp, Huang said, adding that he in May last year began collecting samples for study because little was known about the parasite.
After reaching the initial conclusion that the isopods were Holophryxus fusiformis — the same species Shiino discovered — he took the samples to Japan for further analysis, he said.
The team, working with Saito and Shimomura, confirmed Huang's findings after a year of testing and analysis.
The findings were published on Saturday last week in the journal Crustacean Research, Huang said.
The discovery means the isopod might have originated in Taiwan's waters and reached Japan through the Kuroshio current, which moves clockwise in the Pacific Ocean's northwest, he said.
If the isopods spread in large numbers, they could cause a major decline in the number of sakura shrimp, he said, adding that there was a 1 percent rate of infection among the shrimp in the waters off Yilan last year.
An increase in the parasite population last year might have caused the decrease in sakura shrimp numbers this year in Taiwanese waters and in Suruga Bay, he said, adding that the rate of infection is a world record.
The team's findings also mark the first recorded discovery of sakura shrimp hosting a parasitic isopod, he said, adding that Taiwan and Japan must cooperate to monitor the situation and research marine life, including parasites.
Comments will be moderated. Keep comments relevant to the article. Remarks containing abusive and obscene language, personal attacks of any kind or promotion will be removed and the user banned. Final decision will be at the discretion of the Taipei Times.