Ko suggests official misconduct might be to blame for university's illegal land use
Civil servants' and public actors' dealings often border on the illegal, Taipei Mayor Ko Wen-je (柯文哲) said yesterday in response to a controversy about dormitories at Chinese Culture University that are registered under the name of Chinese Nationalist Party (KMT) New Taipei City mayoral candidate Hou You-yi's (侯友宜) wife.
The Da Chiun Building (大群館), which the university uses as student dormitories, is majority-owned by Hou's wife, Jen Mei-ling (任美鈴).
Democratic Progressive Party (DPP) Taipei City councilors have insinuated that Hou's family has been making exorbitant profits while providing students with poor-quality housing and that it has violated land use regulations.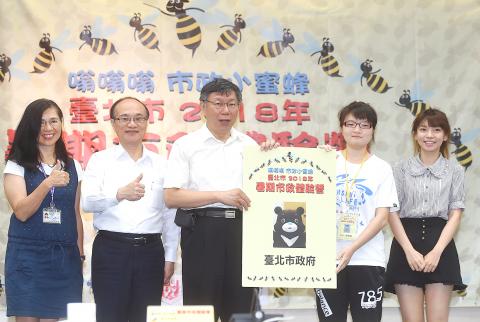 Taipei Mayor Ko Wen-je, center, holds a promotional poster for a Taipei City Hall student "taster" summer camp at a news conference in Taipei yesterday.
Photo: Fang Pin-chao, Taipei Times
The councilors argued that the land on which the building stands is designated "type 2 residential area" under the Taipei City Self-Government Ordinance for Land Use Zoning Control (台北市土地使用分區管制自治條例), meaning that it can be used for "congregate housing," but cannot be used for dorms.
The Taipei Department of Urban Development said it would examine the case and was expected to confirm by yesterday whether the building use is legal.
Reporters asked Ko about the case in the morning.
Municipal officials have been discussing the case, but could not reach a conclusion because they could not understand how the construction permit was issued in the first place, which complicates matters, he said.
Citing the case of more than 1,000 residential units built in a commercial zone in the city's Neihu District (內湖), Ko said "the first unit appeared due to a private act of illegal conduct, but what about the more than 1,000 units that followed afterward?"
Taipei City Councilor Lee Ching-yuan (李慶元) in 2012 reported the building as illegal, but it was not dealt with at the time, so the university and Hou must have believed the building to be legal all these years, as he was never reprimanded, Ko said.
The Da Chiun Building's construction permit and its occupation permit were issued in 1997, despite the building's occupation permit clearly violating zoning laws, Ko said, adding that the city government would need more time to clarify why it was condoned for 20 years.
As of 7pm yesterday, the urban development department had not announced any results in the case.
Comments will be moderated. Keep comments relevant to the article. Remarks containing abusive and obscene language, personal attacks of any kind or promotion will be removed and the user banned. Final decision will be at the discretion of the Taipei Times.