Ko book signing draws crowd of young people
Hundreds of people crowded into a section of Taipei's Underground Book Street in the Zhongshan Metro Mall on Saturday night for a 6pm book signing by Taipei Mayor Ko Wen-je (柯文哲).
Taipei: A Proud City With Progressive Values (光榮城市) topped the best-seller list of the nation's largest online bookstore two days after online pre-orders were opened on June 22, and as of Saturday, the publisher said more than 30,000 copies of Ko's book have been sold.
Hundreds of mostly young people holding copies of Ko's book and their smartphones had packed the area waiting for Ko's arrival.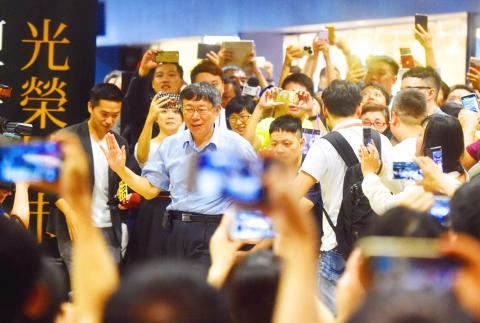 Taipei Mayor Ko Wen-je is surrounded by young fans during a book signing event at the Zhongshan Metro Mall on Saturday night.
Photo: Chien Jung-fong, Taipei Times
The crowd grew so large that several people wearing homemade vests that read "Ko Wen-je fanclub" began instructing the crowd to clear a pathway for passers-by to walk through.
Ko was greeted with loud cheers and clapping, while many in the crowd held their phones up to take photographs and videos of him.
When asked by the MC to share a few words on an accompanying booklet filled with his quotations, the mayor, who is seeking re-election in the November polls, said the wrong policy decisions do more serious harm than corruption, because it is difficult to take NT$20 million (US$655,738) through graft, but NT$10 billion can be lost because of a bad decision.
A good example of this is the Fourth Nuclear Power Plant, which cost about NT$300 billion, but was mothballed before completion and sits empty, Ko said.
Organizers had originally allowed for a little more than three hours for the book signing, with an estimated 500 people who would be allowed to bring three copies of Ko's book for him to sign and have their photograph taken with him, but in the end about 600 people took part and the event did not end until 11pm.
Earlier in the day, Chinese Nationalist Party (KMT) Taipei mayoral candidate Ting Shou-chung (丁守中) said Ko's book release was part of his election strategy.
He queried how Ko could title his book A Proud City when Taipei had made little development in the past three years in attracting investment, improving compatibility and increasing residents' incomes.
Asked about the apparent popularity of the book, Democratic Progressive Party Taipei mayoral candidate Pasuya Yao (姚文智) said each mayoral candidate would try to win on their own merits, but people should pay close attention to see if Ko uses administrative resources for his campaign.
Comments will be moderated. Keep comments relevant to the article. Remarks containing abusive and obscene language, personal attacks of any kind or promotion will be removed and the user banned. Final decision will be at the discretion of the Taipei Times.