Primary school has students run daily for research project
"Normal weight" people ran an average of 73.16 laps more than "obese" participants in a small-scale experiment conducted by a Nantou County school over the course of four months.
To encourage students to exercise, Hushan Elementary School in the county's Caotun Township (草屯) last semester challenged its students and teachers to run a combined total of 100,000 laps of its track.
The Lotus Light Charity Society also pledged to donate NT$100,000 to the school to be spent on books if the school reached its target.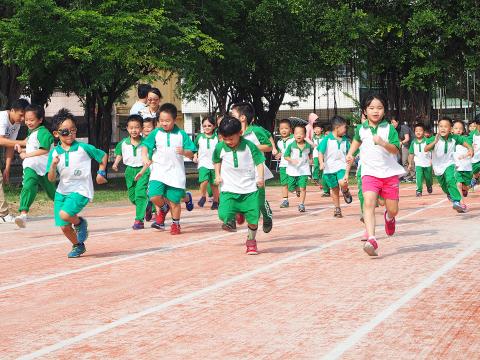 Students of Hushan Elementary School in Nantou County's Caotun Township run on the school's track on Sept. 27 last year.
Photo: Chen Feng-li, Taipei Times
The students and teachers completed the goal in four months, and the school's nurse used the data the school collected to analyze changes in students' health.
On average, people classified as normal weight according to their body mass index (BMI) ran the most laps, followed by those classified as overweight, school nurse Lin Jung-yu (林容瑜) said, adding that the underweight group came in third.
People who are classified as obese based on their BMI ran the least number of laps, Lin said.
Normal weight participants ran 372.44 laps on average, while obese participants ran 299.28, Lin said, adding that on average, boys ran 23.29 more laps than girls.
Boys ran an average of 361.7 laps around the track, while girls ran 338.41, she said.
After four months, the experiment included 12 fewer teachers and students classified as underweight, 8 fewer obese participants and 7 more normal weight people, the school said.
Comments will be moderated. Keep comments relevant to the article. Remarks containing abusive and obscene language, personal attacks of any kind or promotion will be removed and the user banned. Final decision will be at the discretion of the Taipei Times.