No contact for murder, dismemberment suspect
POTENTIAL FOR COLLUSION: A judge said that Chen Po-chien's account was inconsistent with forensic evidence, meaning an accomplice could be involved
The Taipei District Court yesterday ruled in favor of prosecutors' request that Chen Po-chien (陳伯謙), 37, the main suspect in a murder and dismemberment case, be held incommunicado.
The murder took place in Chen's wooden studio at 120 Grassroots, next to Taipei's Huashan 1914 Creative Park earlier this month, police investigations found.
The court had previously granted the Taipei District Prosecutors' Office's request to detain Chen before his trial, but rejected an application to cut Chen off from outside contact.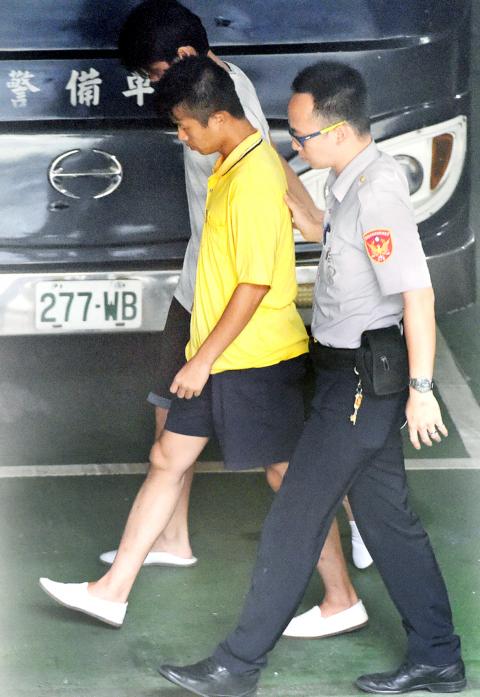 Archery instructor Chen Po-chien, center, the main suspect in the murder and dismemberment of a 30-year-old Taipei woman, is brought to the Taipei District Prosecutors' Office on Tuesday for questioning.
Photo: Liao Chen-huei, Taipei Times
The prosecutors filed an appeal with the Taiwan High Court, arguing that Chen should be held incommunicado, because investigators have not ruled out the possibility of there being accomplices in the murder of a 30-year-old woman surnamed Kao (高).
The High Court on Wednesday remanded the decision to the Taipei District Court.
The Taipei District Court on Wednesday evening summoned Chen from the Taipei Detention Center and attempted to conduct a late-night hearing, which was foiled because Chen had fired his attorney and was without representation.
The bail hearing was reconvened yesterday morning with Chen's new lawyer present.
After listening to the arguments, the presiding judge determined that, while Chen had admitted to killing Kao and dismembering her body to dispose of the remains in the mountains of New Taipei City's Wanli District (萬里), the actual location of the body parts differed substantially from his account.
The manner of dismemberment described in Chen's account was inconsistent with the forensic evidence and parts of the victim's body remain unaccounted for, raising the possibility that Chen might have sought help with that aspect of the crime, the judge said in the ruling.
Furthermore, an unnamed witness leaked details of the crime prior to being interviewed by investigators and the probability of collusion through media or other forms of communication could not be ruled out, the judge said.
Chen is to be held incommunicado until the relevant investigations are completed, the judge said.
Comments will be moderated. Keep comments relevant to the article. Remarks containing abusive and obscene language, personal attacks of any kind or promotion will be removed and the user banned. Final decision will be at the discretion of the Taipei Times.