CTS to broadcast World Cup beginning tomorrow
IMAGE: Ketagalan Boulevard has become known for protests and hopefully a party to celebrate the soccer final would change that, the PTS chairwoman said
Local viewers from tomorrow can catch the FIFA World Cup knockout round on Chinese Television System's (CTS, 華視) terrestrial TV channel 12, officials said yesterday while announcing Taiwan's biggest outdoor party for the final.
CTS has secured the rights to broadcast the World Cup in Russia starting with round 16 tomorrow, so that people can enjoy top-level soccer action, CTS general manager Leon Chuang (莊豐嘉) said at the launch.
"Taiwanese generally do not follow soccer, but every four years we all catch soccer fever and almost everyone talks about the World Cup finals," he said. "Right now, Taiwan's interest in soccer surpasses even baseball and basketball."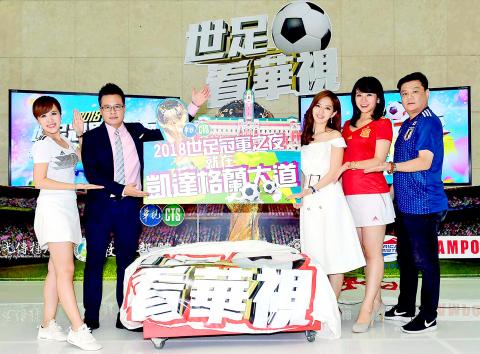 Chinese Television Service staff promote the TV station's World Cup coverage at a news conference in Taipei yesterday.
Photo provided by Chinese Television Service
Chuang then made a surprise announcement with Taiwan Public Television Service (PTS) chairwoman Tchen Yu-chiou (陳郁秀).
CTS, together with soccer organizations and sponsors, would host the biggest World Cup finale party in the nation on July 15, on Ketagalan Boulevard in front of the Presidential Office Building, they said.
"Ketagalan Boulevard has been associated with protests for many years. We want to reverse that negative image," Tchen said.
Tchen said she studied music in France, where she experienced a soccer World Cup twice, and she has many fond memories of watching the games at cafes and bars in Paris and the happiness she shared with friends after France won a game.
About 10,000 people are expected to attend the event, which will begin at 3pm, and run until the end of the game at about 3am the next day, Tchen and Chuang said.
CTS and other sponsors encourage the international community to attend, and have invited migrant worker groups to participate, Chuang said, adding that in the afternoon there would be a mini soccer festival and other activities for people to take part in.
"The event will have a cosmopolitan atmosphere and we will be able to show the world that Taiwan has many vibrant cultures from around the world," he added.
Comments will be moderated. Keep comments relevant to the article. Remarks containing abusive and obscene language, personal attacks of any kind or promotion will be removed and the user banned. Final decision will be at the discretion of the Taipei Times.