Police union, NPP's Huang urge work hour reform, clarification of regulation
Calling for reform, the Taiwan Police Union and New Power Party (NPP) Executive Chairman Huang Kuo-chang (黃國昌) yesterday urged the National Police Agency to more clearly define the "special circumstances" under which police officers are required to work overtime.
Union member Shih Chia-cheng (施嘉承) on June 15 filed a complaint with the Civil Service Protection and Training Commission, demanding that the government stop abusing a provision in the Police Duty Act (警察勤務條例) that allows police to work more than eight hours "when necessary."
While the complaint is still being processed by the commission, New Taipei City's Sijhih Precinct on June 19 suddenly changed Shih's duty roster, reducing his daily work hours to eight, while his colleagues were still working about 12 hours a day, he said.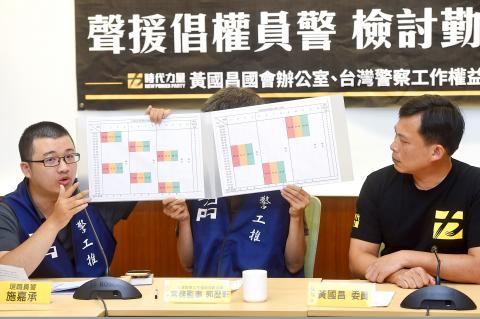 New Power Party Executive Chairman Huang Kuo-chang, right, looks on as police officer Shih Chia-cheng holds up a work schedule at a news conference in Taipei yesterday.
Photo: Chien Jung-fong, Taipei Times
At a news conference in Taipei yesterday, Shih asked the precinct to explain why it had adjusted his roster, but not his colleagues', and urged the agency to overhaul the system, which he said routinely overworks police officers across the nation.
On June 14, police officer Hsu Wen-fu (許文福) committed suicide after his request to take time off was rejected and two officers he personally knew died from heart attacks, but their deaths have not motivated the government to promote change, Shih said.
"The agency should issue an official document defining the circumstances that can be considered 'necessary' to require police officers to work overtime," he said.
Police agencies should also obtain the consent of officers before assigning them to work overtime, he said, adding that it is a right that regular workers have.
It is difficult for police officers in non-managerial positions to receive any support when they are mistreated, union member Kuo Li-hsuan (郭歷軒) said.
"The commission and agency only handle complaints from individuals and our supervisors typically just tell us to follow orders. This needs to change," he said, adding that Shih's decision to file the complaint was supported by the entire union.
Precinct deputy head Lee Wen-tung (李文桐) said that the precinct decided to reduce Shih's daily work hours after seeing a doctor's note he had posted on Facebook, which showed that he had certain health conditions.
The precinct would consider reducing the work hours of other officers if they applied individually, but it cannot automatically change everyone's roster unless the agency announces a change of policy, he added.
Working overtime is common, because the nation is short 4,000 officers and large numbers of workers are required to maintain order and safety, agency representative Ko ting-tsan (柯訂讚) said, adding that Shih and Kuo cannot speak for all officers.
If the agency is uncertain about how many officers agree with the union's view on work hours, it should conduct a survey to find out, Huang said
It should also provide a formal document defining the circumstances under which officers must work overtime, he said.
It should also provide statistics on the percentage of officers who regularly work 12 hours a day and set down a plan and timetable for reducing their work hours, he added.
Agency representatives agreed to Huang's requests and said they would have a report ready in a month.
Comments will be moderated. Keep comments relevant to the article. Remarks containing abusive and obscene language, personal attacks of any kind or promotion will be removed and the user banned. Final decision will be at the discretion of the Taipei Times.