Association urges swimmers to be aware of dangers
Nearly 90 percent of drowning or near-drowning accidents happen to people who know how to swim, Yunlin Elementary School principal Wei Gho-shein (魏國賢) said yesterday.
Apart from not warming up properly, the main reasons that people drown or almost drown are because they have too much confidence in their physical abilities and do not know how to rescue themselves or others, he said.
People who do not know how to swim are afraid of water and are unlikely to approach it on their own, so the chances of something happening to them are lower, he said.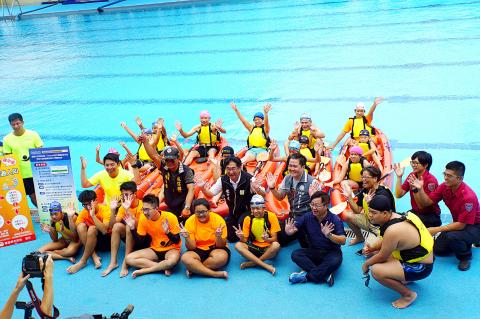 Participants in a life-saving exercise organized by the Yunlin County Elementary School Sports Promotion Council pose for a photograph yesterday.
Photo: Chan Shih-hung, Taipei Times
Wei chairs the executive committee of a government-affiliated association for promoting physical education at elementary schools in Yunlin County, which yesterday hosted a lesson on rescuing oneself and others from drowning.
People who take part in water sports and activities must do so in a safe place with a lifeguard, Wei said.
Swimmers should warm up before entering the water and avoid wearing jeans, engaging in dangerous behavior or diving, he said.
They should not swim alone and should always pay attention to where their friends are, Wei said, adding that being submerged in water for too long can cause hypothermia.
Improving one's swimming and floating techniques could be of benefit, and if an accident does occur, people should stay calm, he said.
Water-based sports and activities are a popular choice for beating the heat during the summer, but people often do not pay attention to their safety, said Lin Yueh-chang (林岳璋), captain of the water rescue team at the Red Cross Society's Yunlin branch.
People should immediately call 119 if they see someone drowning, Lin said.
They should try to reach for the person with a pole, branch or other item, and if that does not work they should throw a ball, bottle or anything that floats toward them, then swim to them with a life vest, Styrofoam float or other floatation device, he said.
Comments will be moderated. Keep comments relevant to the article. Remarks containing abusive and obscene language, personal attacks of any kind or promotion will be removed and the user banned. Final decision will be at the discretion of the Taipei Times.