County promotes last of the lychees
A promotional event for lychees and other agricultural products grown in Hsinchu County was held yesterday morning, with six fruit orchards on Shibajianshan (十 八尖山) opening their gates to the public, the Hsinchu City government said.
The event was held to teach Taiwanese more about agriculture in the region, Hsinchu Mayor Lin Chih-chien (林智堅) said.
Different types of lychees mature at different times, Deputy Mayor Shen Hui-hung (沈慧虹) said, adding that the yuhebao variant in southern Taiwan matures first, then the black-leaf lychees in central Taiwan, with Hsinchu City's Siangshan (香山) region following last.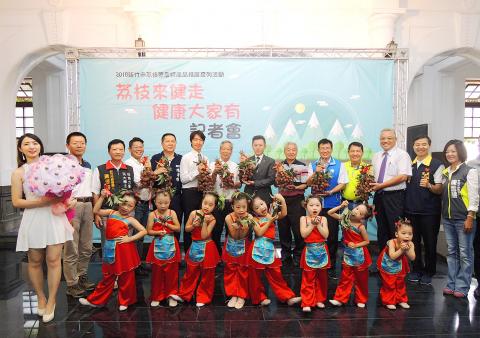 A group of people pose at an event organized by the Hsinchu City Government and the Hsinchu City Farmers' Association in the city on Wednesday to promote the annual Hsinchu Lychee Festival, which took place yesterday.
Photo: Hung Mei-hsiu, Taipei Times
The ripening of lychees in Hsinchu symbolizes the end of the lychee season, Shen said, adding that lychee lovers should visit the city soon to support farmers.
The city's Department of Economic Development Director Wu Chia-tien (吳甲天) yesterday said that all lychees in Taiwan originated from a particular tree in a Hsinchu orchard.
Wu quoted the orchard owner as saying: "My grandfather hand-planted the lychee trees when he moved to Taiwan."
The oldest trees in the city are on the southern part of Siangshan, and many of them are more than a century old, Wu said.
Lychee trees are known for their longevity and ability to produce fruit for many years, he said, adding that thousand-year-old lychee trees in China are said to still be bearing fruit.
There are three main types of lychees in the Hsinchu region, with black-leaf lychees being fleshy, succulent and slightly sour; glutinous rice lychees being named for their similarity to glutinous rice; and sweet olive lychees, which smell of sweet olives, Hsinchu Farmer Association director Chen Chuan-kuei (陳全桂) said.
Lychee prices are stable this year and everyone who loves their taste should come to Hsinchu and support local agriculture, the department said.
Comments will be moderated. Keep comments relevant to the article. Remarks containing abusive and obscene language, personal attacks of any kind or promotion will be removed and the user banned. Final decision will be at the discretion of the Taipei Times.