KMT rejects legislator's personal candidacy poll
The Chinese Nationalist Party's (KMT) headquarters yesterday brushed off poll results published by KMT Legislator Lin Wei-chou (林為洲) that showed he is more popular than the party's Hsinchu county commissioner candidate Yang Wen-ke (楊文科) by a comfortable margin.
Lin as early as last year made public his desire to represent the KMT in the campaign for Hsinchu county commissioner for the Nov. 24 nine-in-one elections, but the KMT headquarters earlier this month skipped an opinion poll and passed a resolution to name Yang, a Hakka, as its candidate in the predominantly Hakka county.
Lin on Wednesday last week criticized his party for "breaching its own system" and vowed to conduct his own opinion poll.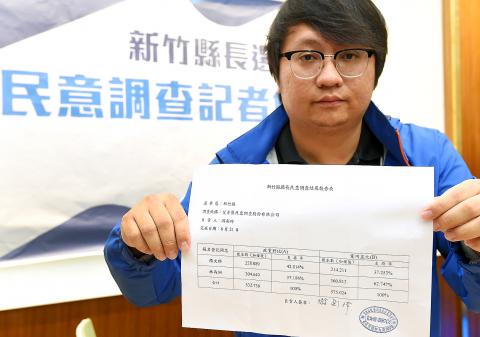 Chinese Nationalist Party (KMT) Legislator Lin Wei-chou's office director, Yang Wen-chih, yesterday in Taipei shows poll results that support Lin's bid for Hsinchu County commissioner.
Photo: Chu Pei-hsiung, Taipei Times
At the time, he said he would withdraw his bid if the poll showed him to be ahead by a smaller margin than the poll's margin of error.
He has not yet made any plans to leave the party to run for commissioner, he added.
To highlight the poll's impartiality, Lin's office director Yang Wen-chih (楊文志) held a news conference in Taipei, at which Lin opted not to appear, because the sealed results were unknown to him.
The poll was conducted in line with the weighting assigned by the KMT's primary rules, which stipulate a 15 percent weighting when an aspirant is pitted against another party member and an 85 percent weighting when one is measured against a prospective campaign rival from another party.
Lin had a support rate of 58.02 percent, while Yang Wen-ke had 41.98 percent, the poll showed
Pitted against prospective rivals Republican Party Chairwoman Hsu Hsin-ying (徐欣瑩) and Democratic Progressive Party hopeful Cheng Chao-fang (鄭朝方), Lin won a support rate of 57.18 percent, compared with Yang Wen-ke's 42.81 percent, it showed.
When sized up against Yang Wen-ke, Lin had a support rate of 62.74 percent, while Yang Wen-ke had 37.25 percent, it showed.
The poll was contracted to survey company Apollo Survey & Research Co and was conducted from Tuesday to Thursday among Hsinchu residents aged 20 or older. It collected 1,069 valid samples, while no margin of error was given.
The poll results would be forwarded to the KMT headquarters as a reference, Yang Wen-chih said.
KMT Culture and Communications Committee Deputy Director-Deneral Hung Meng-kai (洪孟楷) said that Yang Wen-ke's nomination was passed by the KMT Central Standing Committee, so replacing Yang Wen-ke with another candidate would be "out of the question."
Publishing the results of an opinion poll is Lin's "personal matter" and does not breach the party's rules, Hung added.
Comments will be moderated. Keep comments relevant to the article. Remarks containing abusive and obscene language, personal attacks of any kind or promotion will be removed and the user banned. Final decision will be at the discretion of the Taipei Times.