FEATURE: Straw dilemma grips the nation
PROPOSED BAN: Many are worried about what to use when drinking bubble tea, but one future coffee shop owner said he does not want to be 'an accomplice to pollution'
Since the Environmental Protection Administration (EPA) launched draft guidelines for a ban on single-use plastic straws earlier this month, the question on how to drink a cup of bubble tea without a plastic straw has perturbed many Taiwanese, including President Tsai Ing-wen (蔡英文) and other politicians.
Following the expansion of its regulations for plastic bags in January, the agency on June 8 announced that, starting in July next year, restaurants at government agencies, public and private schools, public hospitals, department stores and shopping malls, as well as fast food chains, would be banned from providing single-use plastic straws to customers dining in.
On Sunday last week, in response to media queries on about how people could drink a cup of bubble tea without a plastic straw, Department of Waste Management specialist Lee Yi-hua (李宜樺) said that people could use a spoon instead, sparking a debate that has continued to escalate.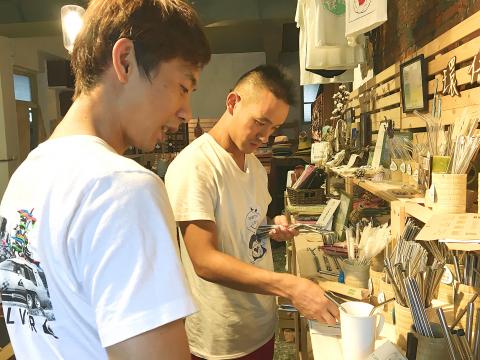 QC Mall founder Ocean Chu, right, shows his reusable straws to future coffee shop owner Hsu Cheng-hung in New Taipei City's Jhonghe District on Thursday.
Photo: Lin Chia-nan, Taipei Times
I-Mei Foods Co general manager Kao Chih-ming (高志明) on Monday said that although the agency's restrictions on plastic products follow with the global trend, it should consider "opening a window" for bubble tea, which is the nation's signature drink, as its flavor would be changed if it is eaten with a spoon instead of a straw.
Public debate about the policy heated up to such a level that even Tsai, when presiding over a party meeting on Wednesday in her capacity as Democratic Progressive Party chairperson, asked what people should use when having bubble tea, if not plastic straws.
The proposed ban is part of the EPA's broader strategy to ban single-use plastic shopping bags, tableware, takeout beverage cups and straws by 2030, EPA Deputy Minister Chan Shun-kuei (詹順貴) said, adding that it was launched in February and met little opposition at the time.
The plastic straws for takeout bubble tea are not included in the draft guidelines, he said, adding that the EPA would only begin to ask businesses to stop providing free plastic straws for takeout customers in 2025.
Lee's response was not inappropriate, as he had fully explained the guidelines, Chan said, adding that CtiTV tried to mislead the public by quoting Lee out of context, and that other TV stations chose to follow suit.
Tsai's concern was a misunderstanding that shows the ruling party's anxiety about the year-end local elections, he added.
As the guidelines require a 60-day notification period, the agency would hold hearings to gather public opinion, probably in the middle of next month, Chan said.
Some have said that it is difficult to clean a stainless steel straw.
The EPA would deliberate with the Ministry of Health and Welfare (MOHW) to see if there is a need to set up guidelines for cleaning reusable tableware, Chan said.
The ministry has already established the Sanitation Standard for Food Utensils, Containers and Packages Act (食品器具容器包裝衛生標準) and the Guidelines for Cleaning Tableware (餐具清洗良好作業指引), which includes reusable straws, Food and Drug Administration section chief Lin Lan-yu (林蘭砡) said.
The act requires suppliers of containers and utensils to meet certain requirements for the maximum allowable levels of substances such as lead, arsenic, cadmium and acetic acid, she said, adding that restaurant owners should not provide customers with unclean or damaged utensils.
Fast-food chains McDonald's Taiwan and MOS Burger Taiwan said they would comply with the government's policy.
Some coffee shops expressed support for the proposed ban, even if they would not be affected by it.
Match Cafe in Taichung began providing customers with reusable straws in 2015, it said on Facebook on Monday, adding that the reduction in trash was remarkable.
Hsu Cheng-hung (徐震紘), who purchased dozens of stainless steel straws from New Taipei City-based straw shop QC Mall for his coffee shop that is to open next month in Taoyuan, said he does not want to become "an accomplice to environmental pollution" and hopes to do something beneficial for the environment no matter how small an effect it might have.
He plans to offer reusable tableware for those dining in and biodegradable cups for those who want take out meals, Hsu added.
QC Mall, which offers reusable straws made of stainless steel, glass and bamboo, was founded by Ocean Chu (朱學傑) in 2013.
Chu said he started the business because he wanted to improve his son's health, while videos showing the serious plastic pollution on the Midway Atoll, where many birds have died from eating plastic, also motivated him to promote reusable tableware.
While many stainless steel straws are imported from China and could rust easily, his are manufactured by local businesses and their quality is comparable to that of medical products, he said.
The production of stainless steel straws stills involves a certain level of water pollution, which can be regulated and improved with better technology, he said.
By contrast, the production of plastic straws involves little pollution, but their waste remains for centuries, he added.
The EPA's proposed ban excludes biodegradable straws and those made of compound materials with a plastic content of less than 10 percent, which signals an opportunity for industrial transformation, Plastics Industry Development Center president Hsiao Yao-kuei (蕭耀貴) said.
The center in April teamed up with the EPA to establish the Marine Plastic Waste Circular Economy Alliance.
Local businesses that decide to produce more eco-friendly straws might be concerned about increased cost and product yield rates, but manufacturing techniques would not be a problem, Hsiao said, adding that some local businesses are able to use corn starch to produce alternatives for plastics through the polylactic acid manufacturing technique.
Since the EPA expanded its plastic bag regulations, some small and medium-sized plastics suppliers have found it difficult to cope with equipment costs and said they hope to move to Southeast Asia, he said, adding that the government should offer assistance in facilitating their migration.
For plastics suppliers hoping to stay in Taiwan, they should work to develop products of higher value, which can be used for recycling purposes, he added.
Comments will be moderated. Keep comments relevant to the article. Remarks containing abusive and obscene language, personal attacks of any kind or promotion will be removed and the user banned. Final decision will be at the discretion of the Taipei Times.