Compound's art, design highlight strong friendship
In addition to its political significance, the American Institute in Taiwan's (AIT) new compound in Taipei's Neihu District (內湖) also features elements and works of art from Taiwan and the US to represent the steadfast friendship between the two nations.
Hours before the AIT formally raised the curtain on the complex yesterday morning, institute staff gave reporters a walking tour of the building, which was built over about nine years for US$255.6 million.
Visitors to the compound are welcomed by a round atrium called the Butterfly Pavilion, the curved wall adorned with carvings of butterfly species from Taiwan on one side and those from the US on the other side.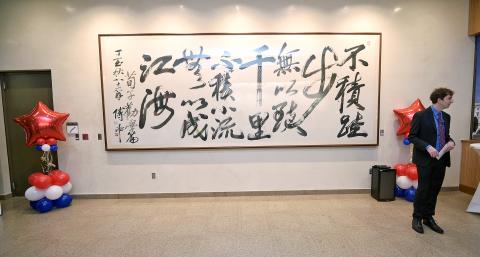 A cursive calligraphic work by Fu Shen is displayed inside the new American Institute in Taiwan compound in Taipei's Neihu District yesterday.
Photo: Chang Chia-ming, Taipei Times
Rashad Jones, a US foreign service officer studying Mandarin at the institute, said that only 2.4 hectares of the 6.5 hectare plot on Jinlong Road was developed, leaving much of the site in its natural state or landscaped to ensure an animal-friendly environment.
More than 72 percent of the property is to be covered with vegetation, thanks to the institute's efforts to increase the total landscaped area by 15 percent, the AIT said.
"Our new building has 14,934m2, or 4,517 ping, of floor space. It will unify AIT's four locations in Taipei into this one multistory building, which was built with a combination of materials from the US and local products," Jones said, adding that the compound was designed to express the values of US democracy and to demonstrate respect for Taiwan.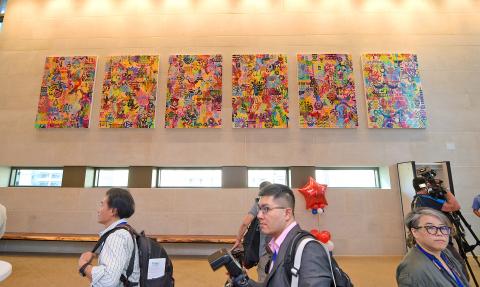 Reporters visiting the new American Institute in Taiwan compound in Taipei's Neihu District yesterday walk beneath a set of paintings on the theme of "impressions of Taiwan" by US painter Ryan McGinness.
Photo: Chang Chia-ming, Taipei Times
The complex also has many eco-friendly features to make it resource-efficient, Jones said.
The complex has a system to store up to 1.12 million liters of rainwater, as well as water-saving faucets and sinks that are expected to reduce consumption of potable water by half, the AIT said.
The compound also features a permanent collection of 12 pieces by eight US and Taiwanese artists, including American painter Ryan McGinness and Taiwanese painter Wang Shu-ling (王淑鈴), AIT Political Officer Toy Reid said.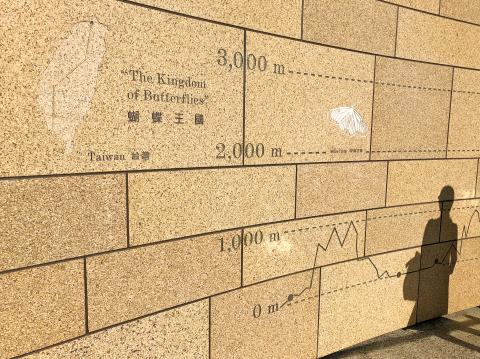 A relief mural highlighting Taiwan's title of "The Kingdom of Butterflies" is pictured in the atrium of the new American Institute in Taiwan compound in Taipei's Neihu District yesterday.
Photo: CNA
At the center of the collection is a piece by renowned calligrapher and academic Fu Shen (傅申) that features the well-known phrase "encouraging learning" (勸學) from the classical Confucian philosopher Hsun Tzu (荀子), Reid said.
"A journey of thousands of miles cannot be achieved except through the accumulation of each single step, just as rivers and oceans cannot form without the accumulation of small brooks and streams," Reid recited.
Although the phrase was meant to encourage learning as a life-long process, Fu reinterpreted it to highlight the strong Taiwan-US friendship that has been built over the years, Reid said.
Born in 1936 in Shanghai, Fu moved to Taiwan with his parents when he was 13 years old. He earned a doctorate in art and archeology at Princeton University in 1976.
Comments will be moderated. Keep comments relevant to the article. Remarks containing abusive and obscene language, personal attacks of any kind or promotion will be removed and the user banned. Final decision will be at the discretion of the Taipei Times.