Law student detained on arms trafficking charges
GUN RUN: The law student made frequent trips to the Philippines, Hong Kong and China during which he sourced firearms and built connections, investigators said
A Chinese-American graduate student surnamed Lin (林) is being held on suspicion of running a syndicate shipping firearms from the Philippines to Taiwan and onward to Hong Kong and cities in China.
The evidence suggests that Lin, 31, who studies at a Taiwanese law school, led the operation, police said, adding that Lin has been in custody since late last month and they had decided to restrict his communications from yesterday.
Lin was born in China, but his family later moved to Hong Kong, a National Police Agency official said, adding that he obtained UK citizenship and US citizenship before moving to Taiwan to study law seven years ago.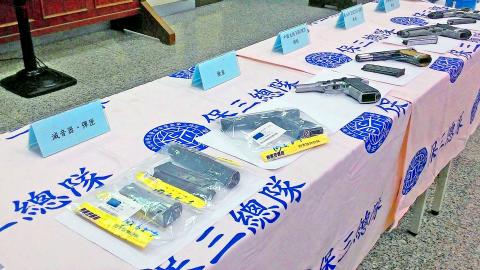 Silencers, magazines and Beretta, Glock and IWI Jericho handguns confiscated by Third Special Police Corps from a Chinese-American graduate law student are pictured at the Criminal Investigation Bureau in Taipei yesterday.
Photo: CNA
"Investigators found that Lin was operating an international firearms smuggling racket. He marketed himself as an arms dealer on YouTube and other Web sites, where he posted handguns for sale and videos of target practice to attract buyers," said Third Special Police Corps first squadron leader Hsu Ke-chiang (許克強), whose unit collaborated with the Criminal Investigation Bureau.
When they last month raided the residences of Lin and four other suspects in Taipei and Kaohsiung, police and bureau officers uncovered pistol barrels, and magazines and slides for Beretta, Glock and IWI Jericho handguns.
Police intend to charge the five suspects with forgery and contravening the Controlling Guns, Ammunition and Knives Act (槍砲彈藥刀械管制條例) and the Organized Crime Prevention Act (組織犯罪條例), Hsu added.
Investigators found that Lin made frequent trips to the Philippines, Hong Kong and China starting in July last year, on which they suspect he sourced firearms and built connections.
Based on courier mail delivery records over the past year, Hsu said that Lin might have shipped firearm components for at least 20 handguns to Hong Kong and China, which he said could have yielded NT$2 million (US$67,078) in profit.
Bureau officials said investigators found that Taiwan was a transshipment center for the operation.
Lin placed orders with Philippine underground manufacturers to modify or manufacture replica parts, then smuggled them to Taiwan in shipping containers, hiding the firearm parts inside motors, pumps and machinery, the officials said.
Lin hired people to pick up the cargo using forged documentation and repackaged the parts for courier delivery to China, they said.
Four other suspects have been brought in for questioning in the case — a woman surnamed Chen (陳), and three men surnamed Liu (劉), Huang (黃) and Hung (洪).
Chen said she applied for a job online and Lin paid her only NT$6,000 as administrative assistant, while the other suspects all said they did not know it was an illegal smuggling business, the bureau said.
They said they only knew that Lin paid them to pick up goods, to deliver them and to provide their own names and addresses for the the inbound cargo and outbound courier shipments, the bureau said.
Comments will be moderated. Keep comments relevant to the article. Remarks containing abusive and obscene language, personal attacks of any kind or promotion will be removed and the user banned. Final decision will be at the discretion of the Taipei Times.