Travel through 'small three links' up 3.12% this year
The travel volume between Kinmen and China's Fujian Province via the "small three links" in the first five months was up 3.12 percent, the Kinmen County Government's Tourism Department said.
A total of 727,410 passengers either came from or traveled to Fujian Province, up from 705,412 during the same period last year, the department said, citing National Immigration Agency statistics.
Taiwanese accounted for 57.08 percent of the total (415,239), Chinese for 40.61 percent (295,414) and other nationalities for 2.3 percent (16,751).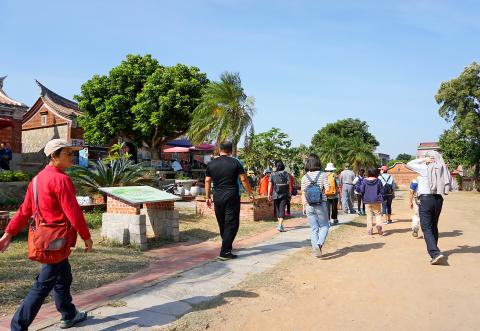 Chinese tourists visit the Shantou Folk Culture Village in Kinmen County's Jinsha Township in an undated photograph.
Photo: CNA
Kinmen's visitor arrivals from China totaled 146,556, an increase of 9.18 percent from last year's 134,228, the department said in a news release.
The increase could be attributed to an easing of restrictions by the agency, which included lowering the on-arrival entry permit fees for Chinese, which took effect on Jan. 1.
Agency data showed there were 21,149 Chinese who applied for entry permits on arrival, an increase of 37.82 percent from the same period last year, the department said.
The increase in the number of tourists arriving from China could also be attributed to a series of festivities organized by the county government in April, such as the Straits Travel Fair, department Director-General Chen Mei-ling (陳美齡) said.
Tourism has become more diversified, and as such, the county would continue to develop cultural itineraries to appeal to Chinese tourists, Chen said.
Comments will be moderated. Keep comments relevant to the article. Remarks containing abusive and obscene language, personal attacks of any kind or promotion will be removed and the user banned. Final decision will be at the discretion of the Taipei Times.