Taiwanese student Sun An-tso pleads guilty
A Taiwanese student accused of threatening to open fire at his high school in Pennsylvania on Monday pleaded guilty to the charge of making terroristic threats in exchange for dropping the charge of possessing an instrument of crime.
Sun An-tso (孫安佐), 18, made the guilty plea in a pretrial conference at the Court of Common Pleas of Delaware County, as part of an open plea agreement with prosecutors in the hope of facilitating his deportation.
Sun read out a prepared statement in front of Judge Barry Dozor, saying that he was remorseful for the embarrassment and shame he caused his parents and people who supported him.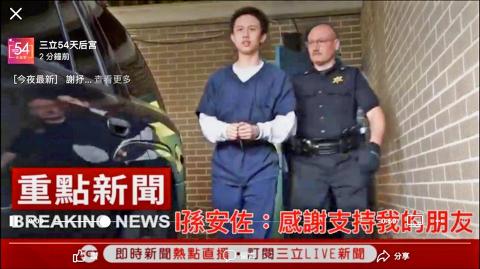 An officer accompanies Taiwanese student Sun An-tso, also known as Edward Sun, in Delaware County, Pennsylvania, on Monday, after Sun pleaded guilty to the charge of making terroristic threats.
Photo: Screen grab from Sanlih Television News
Sun's lawyer, Robert Keller, proposed that the case be handed over to a US federal court to solve the legal problem of possession of weapons involving a non-US citizen and allow Sun to leave the US as soon as possible.
Dozor said Sun's willingness to repent was important.
However, the weapons in Sun's possession were capable of harming others, a fact that should result in imprisonment of between four months and 26 months, he said.
However, Dozor also said he did not want to delay Sun's deportation and would hand over the case to a US federal court.
Sun was brought back to the Delaware County Prison after the conference.
Sun has been held in custody since his arrest on March 26 on charges of making terroristic threats and possessing an instrument of crime after threatening to carry out a mass shooting on May 1 at Monsignor Bonner Archbishop Prendergast Catholic High School.
Sun told police that he was joking.
The Upper Darby Police in Pennsylvania found a ballistic vest, a crossbow with scope and light, 20 rounds of 9mm ammunition and other items in his bedroom.
Police later said that Sun had built a 9mm handgun with parts bought online and had more than 1,600 rounds of ammunition for other types of firearms.
Comments will be moderated. Keep comments relevant to the article. Remarks containing abusive and obscene language, personal attacks of any kind or promotion will be removed and the user banned. Final decision will be at the discretion of the Taipei Times.