MOFA unveils new gifts for dignitaries
TAIWANESE TOUCH: Policy adviser Kate Hung said that as diplomacy is essentially introducing the nation to the world, gifts for foreign visitors must represent Taiwan
The Ministry of Foreign Affairs (MOFA) yesterday unveiled seven gift items infused with Taiwanese elements, part of the ministry's efforts to introduce local culture to a global audience.
The creation of gifts for foreign dignitaries that reflect Taiwanese culture was one of the priority policies announced by Minister of Foreign Affairs Joseph Wu (吳釗燮) when he took over the ministry in February.
"Diplomacy in essence is introducing Taiwan to the world and offering outsiders a better understanding of the stories of Taiwan. That is why the gifts that diplomats choose for foreign dignitaries matter significantly, because these presents represent what they believe best encapsulate Taiwan," ministry policy adviser Kate Hung (洪慧儒) told a news conference in Taipei.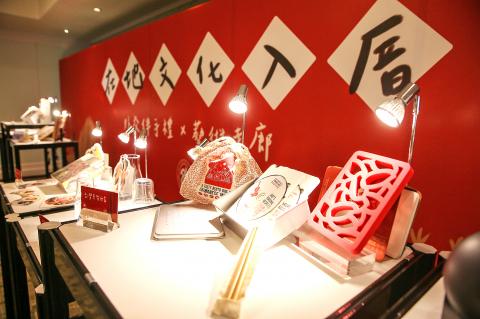 New diplomatic gift items, including a ceramic tile and a lunch box, are displayed at a news conference at the Ministry of Foreign Affairs in Taipei yesterday.
Photo: CNA
In the past, gifts given by the ministry were generally perceived as traditional-looking, as they were filled with "classic components," but Wu's goal is to increase elements from Taiwan's day-to-day life that are more memorable, Hung said.
The ministry also hopes such gifts would help support local entrepreneurs and show to the public that the ministry, despite being a government agency, is willing to think outside the box and try new things, Hung said.
The new gifts include a collection of 40 songs that are believed to be most representative of Taiwan's different eras, a dessert plate embellished with the work of contemporary calligrapher Grace Tong (董陽孜) and a domestically designed LED-equipped Bluetooth speaker that can also be used as an alarm and a night light.
Other items include the board game Harvest Island: A Fruit Grower, which features the most well-known Taiwanese fruits and endemic species, as well as ceramic coasters adorned with patterns commonly seen in so-called ancient Taiwan tiles.
The tiles, production of which mostly stopped after World War II, were largely decorative items added to traditional three-section housing compounds to symbolize wealth and good fortune, Museum of Ancient Taiwan Tiles chief executive James Hsu (徐嘉彬) said.
The ministry has also hung 22 artworks by 18 contemporary Taiwanese artists along the the main hallway of its fifth floor, which officials usually use to receive foreign dignitaries.
The ministry said it hopes to increase other nations' understanding of Taiwanese values through the display of local artwork, adding that it plans to renovate more rooms in the building to give them a fresh look.
Comments will be moderated. Keep comments relevant to the article. Remarks containing abusive and obscene language, personal attacks of any kind or promotion will be removed and the user banned. Final decision will be at the discretion of the Taipei Times.