COA vows to raise banana prices, offer farmers insurance
The Council of Agriculture (COA) yesterday vowed to help raise the price of bananas from NT$11.7 to NT$15 per kilogram within one week, saying that it would introduce an insurance system to guarantee banana farmers' incomes.
The banana harvest in the year to date is 199,026 tonnes, 1 percent less than in the same period last year, but famers' prices have dropped to about NT$6 per kilogram, lower than the price of NT$6.4 per kilogram under which the council issues an alert, COA Deputy Minister Chen Chi-chung (陳吉仲) said.
The price at Taipei's wholesale markets was on average NT$11.7 per kilogram on Sunday, Chen said, adding that the council would raise it to NT$15 per kilogram by next week.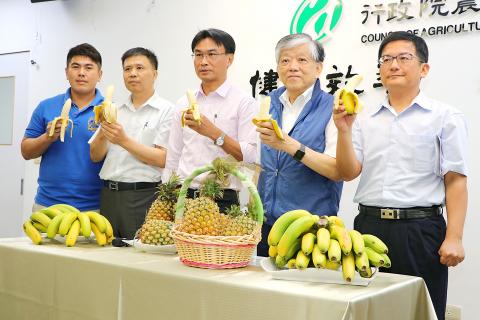 From right, Council of Agriculture Deputy Minister Chen Chi-chung, I-Mei Foods Co general manager Kao Chih-ming and other officials yesterday hold bananas at a news conference at the council's offices in Taipei.
Photo courtesy of the Council of Agriculture
Mitagri Co plans to export 120 tonnes of bananas to Middle Eastern nations and the Taiwan Vegetables and Fruits Exporters' Association is to export 500 tonnes of bananas to China, Japan and other countries, he said.
The council is also to process 5,000 tonnes of damaged or less attractive bananas in a bid to prevent them from flooding the market and pushing down the average price, he said.
To extend the fruit's shelf life, the council is to set up large-scale cooling facilities in Taoyuan, as well as in Changhua and Pingtung counties, Chen said, adding that it would introduce income protection insurance for banana farmers later this year.
The council last year introduced income protection insurance for custard apple farmers in Taitung County, with the council and county government subsidizing 50 percent and 5 percent of the premium, respectively, and farmers paying the rest.
The income protection insurance for banana farmers would resemble that for custard apple farmers, but the subsidy ratios will vary between local governments, in line with their respective fiscal capacities, COA Agricultural and Food Agency Deputy Director-General Su Mao-shiang (蘇茂祥) said, adding that the scheme is still in the planning stage.
The Non-Life Insurance Association is to help select a company to insure banana farmers, COA Bureau of Agricultural Finance Acting Director Lee Tsung-yung (李聰勇) said.
Comments will be moderated. Keep comments relevant to the article. Remarks containing abusive and obscene language, personal attacks of any kind or promotion will be removed and the user banned. Final decision will be at the discretion of the Taipei Times.