Attract more foreigners by focusing on rights: groups
BILL CRITICIZED: One activist said that the government should relax rules for divorcees, while another asked if immigrants were just seen as child-producing tools
A coalition of immigrants' rights groups yesterday urged the government to amend the Immigration Act (入出國移民法) to make immigration easier for foreigners married to Taiwanese and to better protect their rights.
The Executive Yuan early last month said it hoped to attract talent from South Asian nations and ASEAN members by passing a new act governing the immigration of foreign professionals, technicians and investors.
If the law is passed, foreign nationals belonging to certain professions would only need to live in Taiwan for three years to apply for permanent residency, instead of five.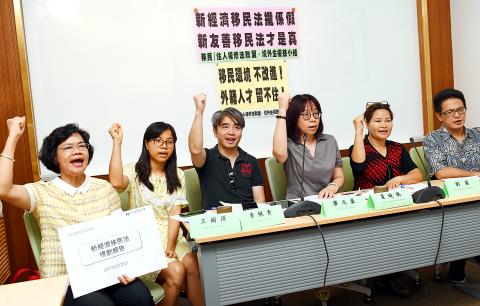 Representatives of a coalition of immigrants' rights groups yesterday shout slogans during a news conference at the Legislative Yuan in Taipei.
Photo: CNA
Immigrant rights groups yesterday criticized the bill's method of attracting talent and urged the government to relax rules on marriage-based residency and improve protection against racism, which they said would be a more effective way of retaining the nation's foreign talent.
"Any young people who have worked in a foreign country for seven or eight years would want to have their own family, but under the Immigration Act, foreign nationals from 21 countries are required to first pass an interview abroad before they can obtain marriage-based immigrant visas," Labor Rights Association executive director Wang Chuan-ping (王娟萍) said.
This is not only inconvenient for the couple, but contradicts the government's plan to attract and keep talent, she said.
The 21 countries are Thailand, Vietnam, Indonesia, Cambodia, Myanmar, the Philippines, India, Nepal, Bhutan, Sri Lanka, Pakistan, Bangladesh, the Republic of Belarus, Ukraine, Mongolia, Uzbekistan, Kazakhstan, Senegal, Nigeria, Ghana and Cameroon.
Serve the People Association director Ying-dah Wong (汪英達), who is married to a woman from the Philippines, said that while his wife had to return home for an interview before they could marry, his sister's French husband did not have to go through the same trouble.
"Foreign workers are not disposable chopsticks. The government should work on creating an environment where they would want to stay," he said, adding that foreign workers are becoming increasingly important as Taiwan's population continues to age.
The government should also relax the rules for divorced spouses who obtained residency through marriage, allowing them to stay after a divorce even if they do not have children, said Lee Pei-hsiang (李佩香), a Cambodian immigrant and executive secretary of TransAsia Sisters Association, Taiwan.
Article 31 of the act stipulates that divorced spouses on marriage-based residency are only allowed to remain in the nation if they have custody over their children, are victims of domestic violence and have underage children, or are victims of domestic violence with a restraining order, she said.
"Must every couple have children? Are immigrants just child-producing tools?" she asked.
The government should also amend Article 62 of the act, which stipulates that those who have experienced discrimination based on nationality, race, skin color or their birthplace can report such incidents to authorities, Shih Hsin University sociologist Hsia Hsiao-chuan (夏曉鵑) said.
"So far this clause has been useless, as no discrimination case has ever been built," she said.
To more effectively fight discrimination, it should be amended to allow authorities to take the initiative and investigate suspected cases of discrimination, Hsia said.
The only thing about the Executive Yuan's proposed bill that might attract foreigners is the shortened time required to get permanent residency, National Chengchi University associate professor of law Bruce Liao (廖元豪) said.
"Yet when foreigners come to Taiwan, they will realize that the work conditions are not very good here, so why would they want permanent residency?" he said. "If Taiwan cannot offer them better salaries, it should at least try to eliminate the negative factors such as discrimination and the obstacles many have to go through to get married here."
Comments will be moderated. Keep comments relevant to the article. Remarks containing abusive and obscene language, personal attacks of any kind or promotion will be removed and the user banned. Final decision will be at the discretion of the Taipei Times.