Tiananmen commemorations planned for Monday
COUNTING THE DAYS: It has been 438 days since Lee Ming-che's arrest in China and 1,000 days since Chinese human rights lawyer Wang Quanzhang disappeared
A coalition of human rights groups yesterday said it would hold a series of events on Monday to mark the anniversary of the 1989 Tiananmen Square Massacre and called on people to stand up against Beijing's human rights abuses.
China has over the past few years stepped up its suppression of human rights, targeting not only its citizens inside the country, but also Chinese nationals abroad and foreigners in China, Taiwan Association for Human Rights secretary-general Chiu Ee-ling (邱伊翎) said.
"China is no longer just trying to undermine Taiwan's sovereignty — it is now a threat to global human rights," she said.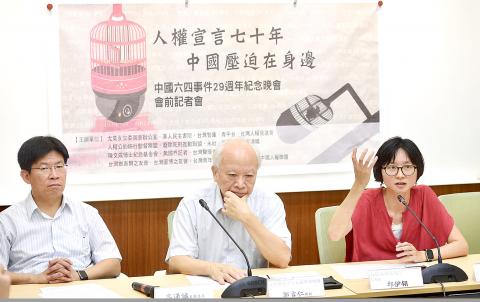 Taiwan Association for Human Rights secretary-general Chiu Ee-ling, right, accompanied by Control Yuan member Kao Yung-cheng, left, and Taiwan Support China Human Rights Lawyers Network convener Kuo Chi-jen, center, yesterday speaks during a news conference at the Legislative Yuan in Taipei.
Photo: Peter Lo, Taipei Times
It has been 438 days since Taiwanese democracy advocate Lee Ming-che (李明哲) was arrested in China and more than 1,000 days since Chinese human rights lawyer Wang Quanzhang (王全璋) disappeared, she said, adding that Chinese poet Liu Xia (劉霞), the widow of Nobel laureate Liu Xiaobo (劉曉波), also remains under house arrest.
As China's close neighbor, Taiwan must collaborate with the international community to make a stand against Beijing's crackdown on human rights, she said.
In July 2015, during what later came to be known as the "709 crackdown," Beijing arrested hundreds of human rights lawyers, many of whom were tortured, Taiwan Support China Human Rights Lawyers Network convener Kuo Chi-jen (郭吉仁) said.
"Following the crackdown, things have continued to worsen," he said. "Since August last year, the government has suspended the licenses of 17 human rights lawyers. While most of them were involved in the '709 crackdown,' some were suspended simply because they defended a Falun Gong practitioner."
Through a series of events to mark the Tiananmen massacre, he said the network hopes to raise awareness about human rights issues and join democracy advocates from around the world to condemn China's inhumane crackdown.
"Twenty-nine years after the massacre, China is still unwilling to uncover the truth of the incident and no compensation or apologies have been made," Democratic Progressive Party Legislator Yu Mei-nu (尤美女) said.
China should release Lee and Liu Xia, examine its mistakes and apologize to victims, she said.
"The biggest difference between Taiwan and China is that we are a democracy that values human rights. We share the belief in freedom and rule of the law with every other democracy," Yu said.
Taiwanese must continue to commemorate those who died in the massacre, "because their noble souls will exist for only as long as people remember them," Control Yuan member Kao Yung-cheng (高涌誠) said.
"I have no expectations or hope that the Chinese government will change, but I would like to ask people who live in freer parts of the world, especially Taiwan: If all we care about is the economy — how much food we have and how much money we make — how are we any different than animals or slaves?" Kao said.
Monday's events, which have been organized by Yu, the Taiwan Association for Human Rights, the New School for Democracy, Covenants Watch and a dozen other groups, are scheduled to begin at 6:30pm at Liberty Square in Taipei with a documentary on the massacre, followed by talks, poetry readings and concerts.
Comments will be moderated. Keep comments relevant to the article. Remarks containing abusive and obscene language, personal attacks of any kind or promotion will be removed and the user banned. Final decision will be at the discretion of the Taipei Times.