Vice president praises AIT's 40-year history
Vice President Chen Chien-jen (陳建仁) yesterday praised the American Institute in Taiwan's (AIT) contributions over the past four decades in promoting bilateral relations in the absence of official diplomatic ties.
He expressed hope that the dedication of the institute's new compound in Taipei's Neihu District (內湖) this month would move Taiwan-US relations to a new stage.
Chen made the remarks at the opening ceremony for an exhibition marking the 40th anniversary of the AIT's founding.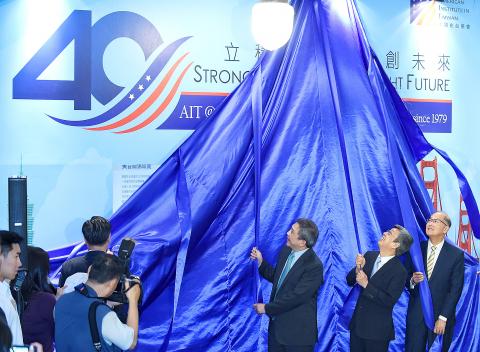 Vice President Chen Chien-jen, second right, American Institute in Taiwan director Kin Moy, center, and National Security Council Secretary-General David Lee, first right, yesterday unveil the exhibition "Strong Foundation, Bright Future: AIT@40, US-Taiwan Relations Since 1979" in Taipei.
Photo: Liu Hsin-de, Taipei Times
The US stood by Taiwan as it liberalized and democratized, Chen said, adding that the opening of the compound would exemplify the longstanding friendship between the two nations.
DEDICATION
Following nearly a decade of construction, the AIT last month announced that a dedication ceremony for the new building would be held on June 12, with its official opening date set for later this year,
AIT Director Kin Moy said he was delighted that the exhibition, titled "Strong Foundation, Bright Future: AIT@40, US-Taiwan Relations Since 1979," is being held at the National 228 Memorial Museum, which once housed the American Cultural Center.
The exhibition uses documents, artifacts, interviews, photographs and augmented and virtual reality to tell the story of the AIT's role in forging Taiwan-US relations, he said in his speech at the ceremony.
OPTIMISM
"In 1979, no one could have foreseen the ways in which US-Taiwan relations would flourish. There is now more cooperation than ever before in our history," Moy said.
"I hope this exhibit gives everyone an idea of how far we have come and gives everyone optimism about future possibilities," he added.
The exhibition not only shows how both sides have together built a strong foundation for their relationship, but also looks ahead to the strong and vibrant cooperation that would continue between people on both sides, Moy said.
The exhibition ends on Sept. 30, but is to tour the nation next year, the AIT said.
Comments will be moderated. Keep comments relevant to the article. Remarks containing abusive and obscene language, personal attacks of any kind or promotion will be removed and the user banned. Final decision will be at the discretion of the Taipei Times.