NHI loses out on NT$1.56bn due to underreporting
The National Health Insurance (NHI) last year lost NT$1.56 billion (US$52.1 million) in revenue due to income underreporting by 214,000 people, National Health Insurance Administration data showed.
The number of premium underpayments due to income underreporting has increased annually, with last year's figure representing a five-year high, the agency's annual report showed.
That compares with just 138,000 in 2013, the agency said.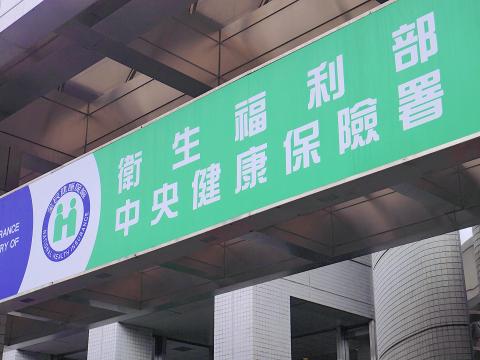 The National Health Insurance Administration headquarters at the Ministry of Health and Welfare is pictured in Taipei yesterday.
Photo: Lin Hui-chin, Taipei Times
The estimates for premium underpayment were derived by cross-referencing tax, labor insurance and health insurance data, it said.
About 196,000 category 1 NHI enrollees — employers, employees and the self-employed — underpaid their premiums, which resulted in a revenue loss of NT$1.32 billion, it said.
About 18,000 category 2 enrollees — mainly freelance union members — underpaid their premiums by about a total of NT$240 million, it said.
No data were available on premium underpayment by agricultural workers, military personnel, veterans and their dependents, who comprise NHI categories 3 to 6, the agency said.
Most of the cases of underpayment were found in small businesses that employ no more than 10 people, said administration Enrollment Division official Lu Li-yu (盧麗玉), who attributed the phenomenon to a lack of understanding of the complex legal code.
For instance, underpayment incidents spiked last year after the maximum labor insurance premium was raised from NT$43,900 to NT$45,800 per month in May 2016, because many small business owners did not know health insurance premiums had to increase with the labor insurance premiums, she said.
Most people underpaid their premiums by a small amount, but there were cases where the difference was substantial, she said, adding that the person who underpaid the NHI the most last year was short by a total of NT$109,000.
Overall, the number of people who underpaid their premiums comprise a small part of the insured and they mostly did so out of ignorance, which the government is to address by stepping up its public information campaign, Lu said.
However, those who defrauded the NHI by deliberately underreporting their income would be subject to a punitive fee that is between two or four times the sum they owe, she said.
Taiwan Healthcare Reform Foundation deputy chief executive Chu Hsieh-kuang (朱顯光) said the NHI should use household income as the basis for calculating premiums, instead of deducting premiums from payrolls.
Directly deducting premiums from payrolls enables people without fixed income to exploit loopholes, which is both unfair to salaried workers and hampers the NHI's revenue collection, he said.
Comments will be moderated. Keep comments relevant to the article. Remarks containing abusive and obscene language, personal attacks of any kind or promotion will be removed and the user banned. Final decision will be at the discretion of the Taipei Times.