SECOND ANNIVERARY: Tsai should apologize for not keeping her word: KMT
The Chinese Nationalist Party (KMT) yesterday lampooned President Tsai Ing-wen (蔡英文) ahead of the second anniversary of her inauguration, saying that her administration has failed to deliver on campaign promises on livelihood issues.
Tsai should sincerely apologize to the Taiwanese when she makes her anniversary speech on Sunday, KMT spokesman Huang Chien-hao (黃健豪) told a news conference at the KMT's headquarters in Taipei.
Tsai has said she has a "soft spot" for the nation's workers, but her administration pushed for the "one fixed day off and one flexible rest day" scheme and the abolition of seven national holidays with its amendments to the Labor Standards Act (勞動基準法), Huang said.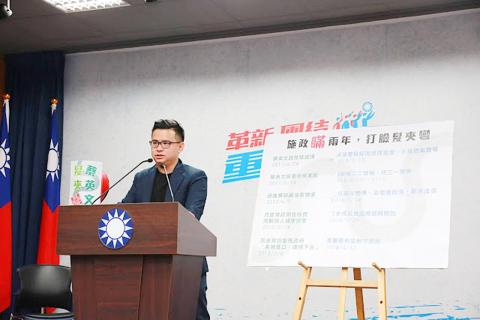 Chinese Nationalist Party (KMT) spokesman Huang Chien-hao yesterday speaks at a news conference at KMT headquarters in Taipei.
Photo courtesy of the Chinese Nationalist Party
The government then flip-flopped and amended the act again, canceling the rule requiring one mandatory rest day for every seven consecutive days of work and reduced the rest time for shift work for approved sectors, he said.
"These changes have led to an increase in overwork," he said.
The government on May 1 said an average worker's monthly salary is NT$49,989, and it more recently claimed that the actual average income for this quarter is NT$59,852, but about half of workers are actually paid less than NT$36,000 per month, Huang said.
Tsai vowed to create a transparent government and has criticized former president Ma Ying-jeou (馬英九) for ignoring the will of the people, but her government has built bigger barriers against protestors than any other administration, Huang said.
When the Democratic Progressive Party (DPP) was in opposition, Tsai promised to not hike electricity rates for 10 years, while the DPP blasted the KMT for raising the price of electricity and gas, he said.
Electricity rates have gone up by an average of 3 percent for businesses that use up to 500 kilowatt-hours per month, he said.
"Two years into Tsai's presidency, prices for consumer products, gas and electricity have gone up, but salaries have not," he said.
The DPP originally proposed to phase out nuclear power and reduce the nation's reliance on coal, but the Tsai administration has opted to build a new coal-fired plant in New Taipei City, instead of the initially planned natural gas-fired plant, Huang said.
Her administration has also decided to reactivate one reactor each at the Guosheng and Ma-anshan nuclear power plants, even though building a "nuclear-free homeland" is a DPP slogan, he said.
As an opposition party, the DPP criticized the Ma administration's plan to allow food imports from five Japanese prefectures following the Fukushima Dai-ichi nuclear disaster in 2011, but is now considering allowing such imports, he said.
It also resisted the KMT's proposal to allow US pork imports, but the Tsai administration has also reversed its position on that issue, Huang said.
Comments will be moderated. Keep comments relevant to the article. Remarks containing abusive and obscene language, personal attacks of any kind or promotion will be removed and the user banned. Final decision will be at the discretion of the Taipei Times.