Kinmen sees 3.5 percent rise in Chinese visitors
The travel volume between Kinmen and China via the "small three links" in the first four months of this year grew 3.5 percent from the same period last year, the Kinmen County Government said.
Travel by direct ferry to and from China's Fujian Province rose to 574,721 passengers from 555,480 last year, it said.
National Immigration Agency statistics show that Taiwanese accounted for 57.51 percent of the travel volume, while Chinese made up 40.17 percent and foreign nationals 2.32 percent, it said.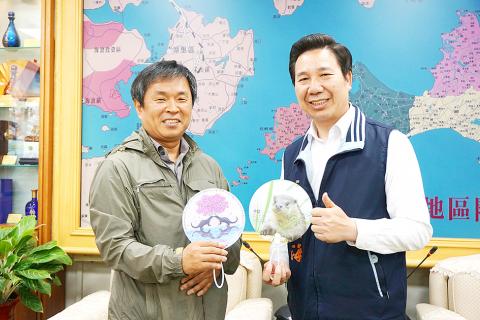 Kinmen County Commissioner Chen Fu-hai, right, and Korean Otter Research Center director Han Sung-yong pose during Han's visit to the county on April 20.
Photo: CNA
Visitor arrivals from China from January to last month totaled 115,919, an increase of 9.9 percent from last year's 105,472, it said.
The highest single-day number of travelers this year was on April 29, the start of China's three-day Labor Day holiday, when 5,512 people arrived, including 3,435 Chinese, it said.
The increase in travelers is attributable to the efforts of Kinmen County Commissioner Chen Fu-hai (陳福海), who lobbied the immigration agency to ease some of the links' restrictions, changes that took effect on Jan. 1, Kinmen Tourism Department Director-General Chen Mei-ling (陳美齡) said.
Those measures included reducing the entry permit on arrival fees for Chinese, expediting the application process if they are visiting Kinmen for artistic or business purposes, and removing the requirement for a "G note" on arrival detailing the date and purpose of their trip if they hold a travel permit from Fujian Province, Chen Mei-ling said.
As part of the central government's efforts to boost Chinese tourism, Minister of the Interior Yeh Jiunn-rong (葉俊榮) on Tuesday last week said that Chinese would now be allowed to enter Kinmen, Penghu and Matsu via the "small three links" for some non-international sports events.
Chinese tourism in Taiwan has decreased since President Tsai Ing-wen (蔡英文) took office in May 2016, because of Beijing's discontent with her administration.
Chinese visitor arrivals in 2016 dropped by 16 percent to 3.5 million from 2015, and to 2.73 million last year, Tourism Bureau data showed.
Comments will be moderated. Keep comments relevant to the article. Remarks containing abusive and obscene language, personal attacks of any kind or promotion will be removed and the user banned. Final decision will be at the discretion of the Taipei Times.