Workplace violence must be stopped: nurses, union
SAFETY CONCERNS: The union said that a case involving a nurse who was often verbally abused and even slapped by a man undergoing dialysis was the 'tip of the iceberg'
The Taiwan Radical Nurses Union yesterday urged the Ministry of Health and Welfare to pay attention and protect nurses from the risk of violence in the workplace.
Scores of nurses and members of their families yesterday held up signs in front of the ministry building that read: "Severely punish clinics that ignore violence, and make hospital violence an indictable offence," and "Unscrupulous employers allow patients to hit nurses just to earn money."
The union said that a female nurse nicknamed Hsiao-chi (小祺), who worked in a clinic that specializes in kidney diseases in Yunlin County's Huwei Township (虎尾), had been taking care of a long-term dialysis patient surnamed Tsai (蔡), but the patient often verbally insulted her and once slapped her in the face.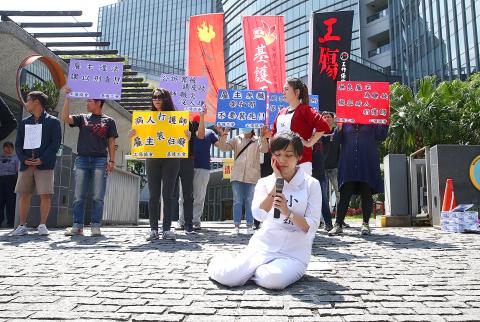 Members of the Taiwan Radical Nurses Union and allied labor groups perform a skit outside the Ministry of Health and Welfare in Taipei's Nangang District yesterday to protest a dialysis clinic telling a nurse not to react after she was assaulted by a patient.
Photo: CNA
Hsiao-chi told the clinic manager about the incident, but was asked to continue taking care of the man, the union said, adding that due to the pressure, she started suffering from anxiety, trembling, nausea and vomiting, and had difficulty breathing.
She finally had to seek mental health treatment, it said.
The clinic manager said the surveillance camera did not record the incident and told her to go home and rest, without helping her get an injury assessment or investigating the case, Hsiao-chi's elder sister said.
The manager even accused Hsiao-chi of being in the wrong, she added.
The union quoted Hsiao-chi as saying: "What really hurt me was the clinic, because it did not care about me after I got slapped and even distorted the truth and forced me to admit that it was my fault. It hurts to be slapped, but it hurts even more to think that I deserved it."
The case is only the "tip of the iceberg," because although the Medical Act (醫療法) was amended in 2014 to make healthcare workplace violence an indictable offense, there were still more than 200 cases reported in 2016, let alone cases such as Hsiao-chi's that went unreported, union chairperson Wu Chia-ling (吳嘉綾) said.
There are more than 80,000 people on long-term dialysis and about NT$50 billion (US$1.68 billion) in National Health Insurance money is spent on treating long-term kidney diseases each year, but the union often receives complaints from nurses about being sexually harassed and verbally or even physically assaulted by patients, she said, adding that the clinics ignore these cases because they want to keep their patients.
Wu said they urge the ministry to severely punish healthcare facilities that ignore or try to conceal these cases, so that nurses can work in a safe environment without being exposed to violence.
Comments will be moderated. Keep comments relevant to the article. Remarks containing abusive and obscene language, personal attacks of any kind or promotion will be removed and the user banned. Final decision will be at the discretion of the Taipei Times.