Navy honor guard wows audience at drill championship
Republic of China Navy Honor Guard Su Chi-lin (蘇祈麟) on Saturday competed in the World Drill Championships solo finals in Dayton, Florida, becoming the first Taiwanese military honor guard to participate in the event in uniform, the Ministry of National Defense said.
The ministry praised Su's routine at the Ocean Center as "technically flawless" and said he was one of the top eight soloists in the competition, which was attended by 36 competitors from around the world.
A video of Su's performance, live-streamed on Facebook by Triangle Studio (https://zh-tw.facebook.com/TriangleStudio03/), had garnered more than 100,000 "likes" as of press time last night.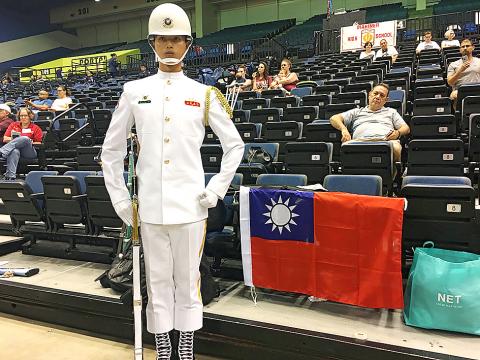 Republic of China Navy Honor Guard Su Chi-lin stands at attention at the World Drill Championships at the Ocean Center in Daytona Beach, Florida, on Saturday.
Photo: CNA, courtesy of Lin Chun-in
The event's organizers are scheduled to make an official announcement today on the final rankings of the solo division, a naval official said on condition of anonymity.
While Su had a few minor missteps in the competition's preliminary stage, his technique was flawless throughout the final, the official said.
The highly challenging and perfectly executed rifle tosses in Su's final routine, especially a back-catch he performed while blindfolded, won him applause and gasps from the audience.
Last year's champion soloist Robert Zyko said he pegged Su as the champion of this year's competition, adding that the technical difficulty of Su's routine was "insane."
At the end of his performance, Su shouted, "I love you, Taiwan," before joining a group embrace with other competitors.
Su's participation in the event was subsidized by the ministry, but he was compelled to withdraw the costume he originally prepared for the event, after its non-regulation design and rank insignia sparked criticism on social media.
Su eventually attended the competition in Navy Honor Guard uniform and with the blessings of Commander of the Navy Admiral Huang Shu-kuang (黃曙光), who ordered a motivational video be made for Su.
Asked for comment, Su said the incident had somewhat affected his spirits, but the support from the navy and work have allowed him to overcome the difficulties.
Comments will be moderated. Keep comments relevant to the article. Remarks containing abusive and obscene language, personal attacks of any kind or promotion will be removed and the user banned. Final decision will be at the discretion of the Taipei Times.