Ko Si-chi shifts focus to homeland
THROUGH DIFFERENT EYES: The famed photographer said that it was his wife who convinced him to take photographs of Taiwan's numerous tourist attractions
Photography is an ongoing quest to find "the right picture," said 88-year-old Ko Si-chi (柯錫杰), who, having wandered the world for nearly his entire adult life, has decided to focus on Taiwan to "portray Taiwanese scenery from different, unique perspectives."
Long renowned as a leading figure of modern Taiwanese photography, Ko made his name in the US commercial photography industry.
Speaking to Steven McCurry — the US photographer who shot the "Afghan Girl" photograph — during McCurry's exhibition in Taipei, which runs until today, Ko said he ultimately decided that commercial photography was not for him.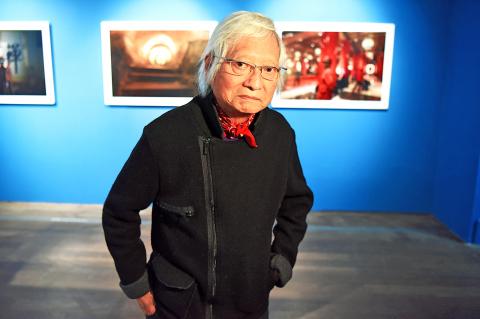 Photographer Ko Si-chi poses at US photographer Steve McCurry's exhibition at the Museum of Contemporary Art in Taipei on April 18.
Photo: Wu Liang-yi, Taipei Times
Ko said he traveled around the world after he closed down his photography studio in the US to practice and because he wanted to take photographs of foreign lands for Taiwanese to see.
Ko was born in 1929 and moved to the US in the 1960s.
It was very difficult for Taiwanese to leave the nation then, Ko said.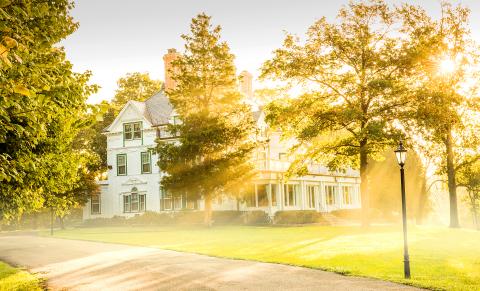 Twin Oaks, a historic site owned by the Taipei Economic and Cultural Representative Office in Washington, is pictured in an undated photograph taken by photographer Ko Si-chi.
Photo courtesy of the Taipei Economic and Cultural Representative Office in the US
"I thought that since I made it there, I would take more photographs for those who were still in Taiwan," he said.
Now that it is easier for people to leave the nation, Ko said he wishes to take more photographs of Taiwan so that others can see the beauty of his homeland.
When he first made his decision to focus on Taiwan, he did not want to take photographs of its scenic locations and instead wished to find that "special picture" within his mind, Ko said.
"My wife, Jessie Fan (樊潔兮), persuaded me otherwise, telling me to adopt a broader mindset," Ko said.
"While everyone photographs the same scenery at renowned tourist attractions, I see different things, because I am Ko Si-chi," Ko said Fan told him.
Ko and Fan have over the past few months traveled to tourist attractions such as the Buddha statue in Changhua County and Sun Moon Lake (日月潭) in Nantou County, with Fan, who is a dancer, sometimes posing for the photographs.
Ko is known for his ability to compose photographs in unremarkable or inconspicuous areas, with strong contrast of light or color.
A photograph he took of the Sihcao Green Tunnel in Tainan, titled Water Manifestations (水姿繪), is considered representative of his style of photography.
Ko's style is about simplicity, rich colors and detail, and he continues to surprise his viewers by highlighting different aspects of things as mundane, such as sky seen from a window or a lily floating in a pond.
When asked what he would like to tell aspiring photographers, he said: "Dedicate yourself 100 percent to what you like to do, whether that thing is photography, or anything else."
Ko offered new photographers a small tip on photographing people.
"Be mindful of the models' hands, their actions tell you what emotions that model is feeling," Ko said.
Photographers commonly focus on the eyes, but Ko said that limbs' actions make photography livelier.
Ko said he has recovered from sleep apnea, which had been preventing him from working, adding that in September last year he accepted an invitation extended by Representative to the US Stanley Kao (高碩泰) to photograph Taiwan's Twin Oaks estate in Washington.
Comments will be moderated. Keep comments relevant to the article. Remarks containing abusive and obscene language, personal attacks of any kind or promotion will be removed and the user banned. Final decision will be at the discretion of the Taipei Times.