Koo must address NTU issue: lawmaker
Financial Supervisory Commission Chairman Wellington Koo (顧立雄) must answer questions about the Ministry of Education's decision to reject Kuan Chung-ming's (管中閔) election as National Taiwan University (NTU) president, Chinese Nationalist Party (KMT) Legislator William Tseng (曾銘宗) said yesterday.
Tseng's statement came two days after a reporter for a pan-blue camp news channel asked Koo seven times to comment on the ministry's rejection of the university's presidential election result.
Koo declined to answer each time, saying: "That is not my department" and challenged the reporter to ask the question again.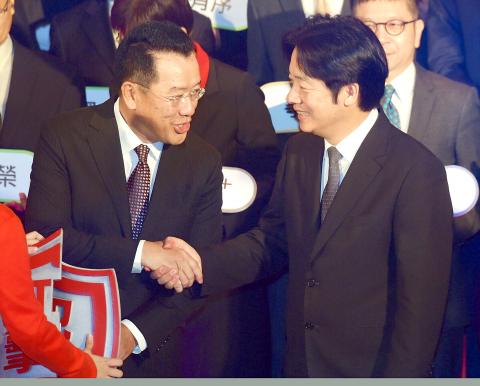 Financial Supervisory Commission Chairman Wellington Koo, left, and Premier William Lai shake hands at a news conference held by the Cabinet's Anti-money Laundering Office in Taipei yesterday.
Photo: Huang Yao-cheng, Taipei Times
Tseng, who is the KMT's convener of the legislature's Finance Committee, said at a committee meeting that he has changed the agenda for today's meeting in a rare last-minute alteration.
Koo must submit a report on "the legality of Kuan's employment as a professor at NTU and independent board director of Taiwan Mobile Co from the perspective of corporate administration," he said.
Koo should also clarify whether Kuan's position in Taiwan Mobile constitutes a conflict of interest, Tseng said.
The Ministry of Education in its decision to decline to confirm Kuan's appointment described his undisclosed ties with the company as a conflict of interest, because Taiwan Mobile vice president Richard Tsai (蔡明興) is a member of the university's election committee.
Since the committee wishes to discuss the NTU presidential election, Kuan and Tsai should also be called to answer questions, New Power Party Legislator Hsu Yung-ming (徐永明) said.
"Otherwise, it is a pointless exercise in pressuring a government agency," Hsu added.
However, Tseng refused to oblige Hsu's request on the grounds that he has already changed the agenda.
Koo yesterday brushed aside another question by a CtiTV reporter regarding the Kuan controversy at a news conference about a national assessment report on money laundering and terrorism financing, again saying: "That is not my department."
The reporter replied that the commission is charged with regulating the conduct of businesses, including their boards of directors, and therefore Koo should answer his question.
"You need to more clearly define your question. That is a basic skill a journalist should have," Koo said. "It is unprofessional of you to ask questions that have no purpose other than to provoke."
Comments will be moderated. Keep comments relevant to the article. Remarks containing abusive and obscene language, personal attacks of any kind or promotion will be removed and the user banned. Final decision will be at the discretion of the Taipei Times.