Yao reiterates vow to quit if he flops in election
Democratic Progressive Party (DPP) Legislator Pasuya Yao (姚文智) yesterday vowed to deliver on his pledge to quit politics if he comes in third in November's Taipei mayoral election, as he rallied support for a march tomorrow to mobilize what he called "Taipei Mayor Ko Wen-je (柯文哲) haters."
Yao first made the pledge during a television interview on Wednesday with political talk show host Cheng Hung-yi (鄭弘儀), who asked him what he would do if he won the DPP's nomination, but lost to Ko and the Chinese Nationalist Party's (KMT) prospective candidate, former KMT legislator Ting Shou-chung (丁守中), in the mayoral race.
"If I came in third, I would stay out of politics for good," Yao said, adding that the hypothetical scenario was unlikely given that the DPP traditionally commands the support of 40 percent of Taipei voters.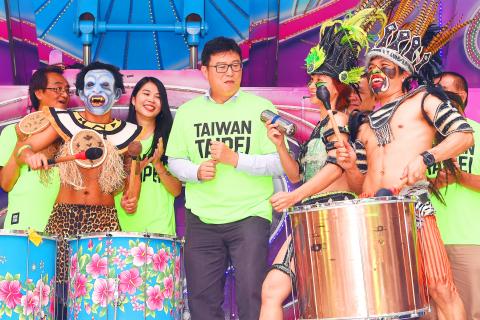 Democratic Progressive Party (DPP) Legislator and DPP Taipei mayoral hopeful Pasuya Yao, center, participates in a news conference in Taipei yesterday to promote a parade tomorrow afternoon for what Yao calls "Taipei Mayor Ko Wen-je haters."
Photo: Liao Chen-huei, Taipei Times
Reiterating that politics is about sacrifices and hard work, Yao yesterday said he was clear about why he made such a pledge, which would be his way of apologizing to the DPP in the event that he came in third in the Nov. 24 race.
The parade tomorrow afternoon is designed to appeal to people seeking to defend Taiwanese values and to pursue a better Taipei, Yao said.
"Nearly 90 percent of the party's Taipei city councilors helped organize the march. Many good friends who want to see [the DPP] field its own candidate in Taipei are also going to be there," Yao said, adding that he was confident that the event would easily attract more than 10,000 participants.
With "Saying bye-bye to Ko" as its theme, the march is scheduled to begin at 2pm at the Minquan Park in Songshan District (松山) and end at the square in front of Sun Yat-sen Memorial Hall, where speeches will be given by Yao's supporters until 5:30pm.
Yao said the procession would pass Taipei International Airport (Songshan airport) and the Taipei Dome, two of the city's most pressing problems.
There have been periodic calls for the airport's relocation to Taoyuan, a plan that would lift the height limits for surrounding buildings to allow further development of the area and eliminate risks from potential accidents at the airport.
Construction of the Taipei Dome, which was originally scheduled to be completed in 2015, has been suspended for more than two years due to safety concerns.
Yao and former vice president Annette Lu (呂秀蓮), both of whom are competing for the DPP's nomination, have urged the party to field its own candidate instead of endorsing Ko, who is seeking re-election, as it did in 2014.
Comments will be moderated. Keep comments relevant to the article. Remarks containing abusive and obscene language, personal attacks of any kind or promotion will be removed and the user banned. Final decision will be at the discretion of the Taipei Times.