Seafood, aquarium cuts must be taken seriously: doctors
People who accidentally cut themselves while cleaning seafood or aquariums should not ignore their injuries, doctors said, citing a case in which a 50-year-old fishmonger in Kaohsiung was diagnosed with aquarium granuloma after being infected with Mycobacterium marinum.
Mycobacterium marinum, while from the same genus as tuberculosis, is considered an atypical mycobacterium, Kaohsiung Municipal Siaogang Hospital vice president and Orthopedics Department doctor Fu Yin-chih (傅尹志) said.
The mycobacterium is found in seawater or on seafood, Fu said, adding that once infected, the skin swells, but is not itchy and patients might not even feel pain.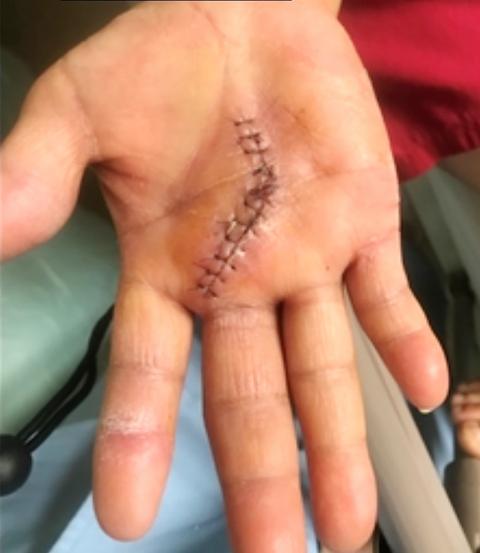 A 50-year-old fishmonger in Kaohsiung shows her hand after surgery to address a Mycobacterium marinum infection in an undated photograph.
Photo courtesy of Fu Yin-chih
The fishmonger visited the hospital saying she was unable to bend her middle finger due to swelling, which had extended along the finger's tendon, Fu said, adding that she said the symptoms had started several months earlier.
Tests confirmed that the swelling was caused by Mycobacterium marinum, Fu added.
The infection must have occurred when an open wound in the woman's finger came into contact with the seafood she was selling, said Chang Ko (張科), a physician from the hospital's Department of Infectious Diseases.
The antibiotics used to treat Mycobacterium marinum are different from those used for other bacterial infections, and treatment lasts from six to nine months, Chang said.
Fishermen and people preparing or cooking seafood should wear gloves, Fu said, adding that those who raise fish should wear gloves when cleaning their aquariums to prevent infection.
Vibrio vulnificus can also cause swelling and festering of wounds, and the only difference between the two bacteria is that Vibrio vulnificus infections tend to be acute, while those of Mycobacterium marinum are chronic, Fu added.
Comments will be moderated. Keep comments relevant to the article. Remarks containing abusive and obscene language, personal attacks of any kind or promotion will be removed and the user banned. Final decision will be at the discretion of the Taipei Times.