New-look Bravo the Bear to debut at Creative Expo
Last year's Taipei Summer Universiade mascot, Bravo the Bear, has been adopted by the Taipei City Government as its mascot, but would undergo a change in appearance due to trademark application requirements, the municipality said on Friday.
Bravo's appearance is not distinguishable enough from any other image of a Formosan black bear, so it needs a more unique appearance before it can receive trademark protection, the Taipei Department of Information and Tourism said.
The department also announced that the new-look Bravo would appear at Creative Expo Taiwan, which is to be held at the Taipei International Flora Exposition Expo Dome and starts on Wednesday.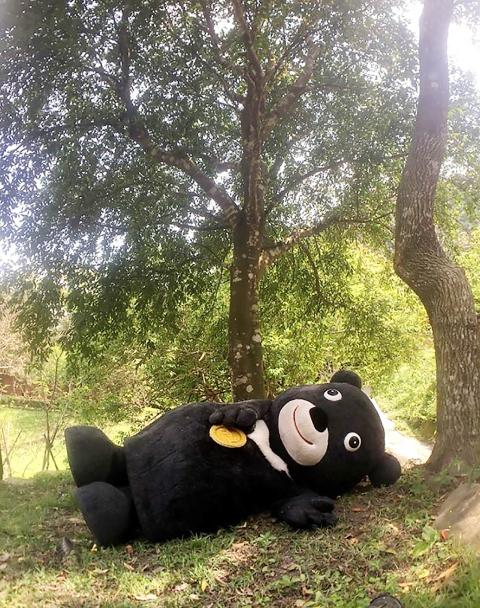 Taipei Summer Universiade mascot Bravo the Bear reclines under a tree in a photograph taken from the mascot's official Facebook page.
Photo: screen grab from official Facebook page
A netizen on Saturday posted a picture of what the poster said was the mascot's new design on Professional Technology Temple (PTT), the nation's largest online academic bulletin board.
The image showed a Formosan black bear similar to Bravo, but with white eyebrows, a blue nose, 12 vertical white patches on its stomach, and slight changes to the proportions of its head, body and limbs.
The majority of netizens who commented on the post did not like the design.
When asked about a local media report that said the city spent more than NT$5 million (US$170,637) on revising the design three times, Taipei Mayor Ko Wen-je (柯文哲) said that the city government failed to obtain trademark registration for the mascot, and while the new look can be discussed, the city government should maintain a culture that respects intellectual property.
If Taipei wants to become an culturally advanced city on an international level, it needs to accept the idea of paying for designs and respecting intellectual property rights, Ko said, adding that he supports the department's decision to apply for trademark protection.
There would only be mild revisions to Bravo's original appearance, Department Commissioner Chen Su-yu (陳思宇) said yesterday.
She said the picture posted on PTT was not the final version of Bravo, but the department condemns the person who intentionally posted the unofficial image.
Comments will be moderated. Keep comments relevant to the article. Remarks containing abusive and obscene language, personal attacks of any kind or promotion will be removed and the user banned. Final decision will be at the discretion of the Taipei Times.