Philanthropist Chen Shu-chu retires: official
RECOVERY: The famous vegetable vendor, who fell ill from appendicitis in February, has been resting at a temple in Kaohsiung, her younger brother said
Renowned philanthropic vendor Chen Shu-chu (陳樹菊), who sold vegetables at the Central Market in Taitung for more than half a century, has retired and moved to Kaohsiung, Taitung County Commissioner Justin Huang (黃健庭) said yesterday.
"I am less worried now that she has made this decision," Huang said by telephone. "It is not a surprise that she retired."
Huang said Chen, 67, fell ill before the Lunar New Year holiday and told him that she was considering retiring when he visited her.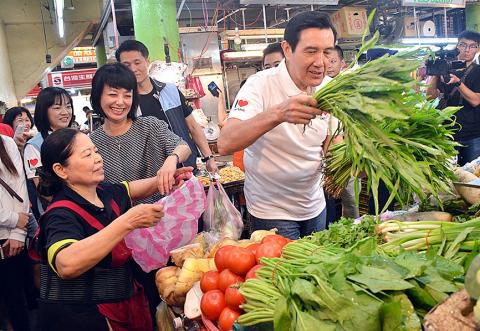 Renowned philanthropist and vegetable vendor Chen Shu-chu, left, is pictured with former president Ma Ying-jeou, right, during Ma's visit to Taitung's Central Market on April 26 last year.
Photo: CNA
"I encouraged her to retire, so that she could take a good long rest," Huang said, adding that she now lives in Kaohsiung.
Chen Chia-ming (陳洽銘), her younger brother, also confirmed news of her retirement.
"She called me a few days ago, telling me she was going to retire and asking me to take over her vegetable stand," Chen Chia-ming said. "I'm sorting it out and will hand it over to my son after May."
"Since falling ill from appendicitis in early February, she has been resting at a temple in Kaohsiung," Chen Chia-ming said. "She was rushed to hospital and had an emergency operation."
"Although her life was saved, she has yet to fully recover and that is why her vegetable stand has been closed since then," he added.
Chen Shu-chu became a household name across the nation after her good deeds were brought to light by local and foreign media.
She was honored as one of the 100 most influential figures by Time magazine in 2010 for contributing more than NT$10 million (US$343,077 at the current exchange rate) to different charitable causes.
In the same year, she was also named one of the 48 heroes of philanthropy by Forbes Asia.
In 2012, Chen Shu-chu was one of six winners of the Ramon Magsaysay Award for helping the poor, receiving a US$50,000 cash prize, which she donated to the Taitung branch of Mackay Memorial Hospital.
Chen Shu-chu's mother died during childbirth when she was in elementary school, because the family could not afford to have her give birth in a hospital.
To help her father raise her younger siblings, she started to sell vegetables at the stand he left her at the age of 13.
Comments will be moderated. Keep comments relevant to the article. Remarks containing abusive and obscene language, personal attacks of any kind or promotion will be removed and the user banned. Final decision will be at the discretion of the Taipei Times.