Eco-friendly burials find wider acceptance in Taiwan
The concept of returning to nature after death is becoming widespread in Taiwan, with eco-friendly burials increasing nationwide.
In Taiwan eco-friendly burials usually take the form of having bodies cremated and the ashes being buried near trees or flowers or scattered in the sea. No graves or stele are built for the dead.
The concept of eco-burials has found wider acceptance in the nation's six special municipalities, with 2,857 taking place in Taipei in 2016, followed by 1,122 in New Taipei City, 343 in Taoyuan, 846 in Taichung, 290 in Tainan and 698 in Kaohsiung, Ministry of the Interior data showed.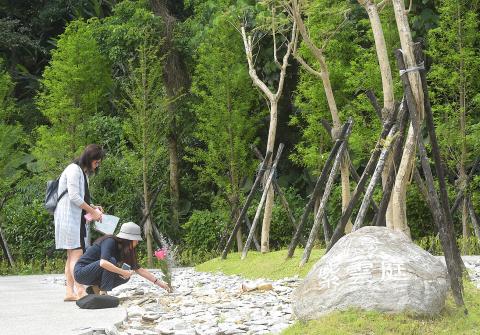 Women prepare flowers and offerings at the site where their loved one's ashes are buried in Yung Ai Yuan, an eco-cemetery in Fude Public Cemetery in Taipei on Wednesday.
Photo: Huang Yao-cheng, Taipei Times
In comparison, the numbers of such burials in other cities and counties were fewer than 100, the data showed.
Nevertheless, the overall total of more than 30,000 in 2016 represented a sharp increase from just 200 in 2006.
Eco-friendly burials address the problem of a shortage of space in Taiwan in ways that traditional casket burials or columbariums cannot, Department of Civil Affairs deputy director Cheng Ying-hung (鄭英弘) said.
Cheng attributed the higher number of cases in the six special municipalities to better quality infrastructure to support eco-friendly burials.
The idea behind eco-friendly burials is to make cemeteries more like parks, so that people can visit them to remember their loved ones whenever they want, as opposed to the convention of going to the gravesites just once each year to pay respects and tidy tombs, Cheng said.
There are 31 cemeteries in Taiwan that allow for a tree or flower burial or the spreading of ashes, two zones that are not cemeteries where such burials can take place, and nine local governments that can help with sea burials, ministry data showed.
The trend has grown so popular that some places, such as Kaohsiung, are on the verge of running out of space designated for "tree burials."
Kaohsiung has seen eco-friendly burials grow by up to 60 percent annually, Hsieh Ting-sung (謝汀嵩), head of the city's Mortuary Services Office, said on Wednesday.
Because of the rapid growth, the city's two cemeteries in Qishan (旗山) and Yanchao (燕巢) districts that have natural burial sections are running out of space for tree burials, Hsieh said.
The total 1,400 burrows dug next to trees at the cemeteries for the burial of ashes will soon be unable to be renewed in time for cyclic utilization, Hsieh said.
While the burrows are divided among several tree zones, a zone can only be reused through a soil-turning process one year after all its burrows are occupied, he added.
Pressed by the rising demand, the city is planning to expand the tree burial section at the Qishan cemetery and to establish a new section in Shanlin District (杉林), Hsieh said.
The tree burial section in Qishan was inaugurated in 2010 with 800 burrows, while the one in Yanchao opened in 2015 with 600 burrows.
As of 2015, Qishan had received 349 applications for tree burials while Yanchao had 214, according to official statistics.
However, over the past two years, the number of dead buried next to the trees has grown to nearly 1,000 each year in Kaohsiung, which records about 21,000 deaths every year, statistics show.
Comments will be moderated. Keep comments relevant to the article. Remarks containing abusive and obscene language, personal attacks of any kind or promotion will be removed and the user banned. Final decision will be at the discretion of the Taipei Times.