MOI blasts funeral associations
FORGOTTEN? Several funeral service groups ran an advertisement that said eco-friendly burials would wipe out the tradition of paying respects to the dead
The Ministry of the Interior (MOI) criticized several funeral service associations for running a misleading advertisement yesterday about eco-friendly burials on Tomb Sweeping Day.
The Taiwan Funeral Association, the Taiwan-based Chinese Funeral Ceremony Association and the Columbariums and Cemeteries Management Association of the Republic of China published a joint advertisement titled "Is Tomb Sweeping Day becoming irrelevant? The fascinating myth about so-called eco-friendly burials" in several newspapers.
According to the advertisement, cremated remains are mainly composed of non-biodegradable tricalcium phosphate and if they are buried in tree groves, people's "deceased grandparents" could be dug up like "waste" in a landfill in development projects.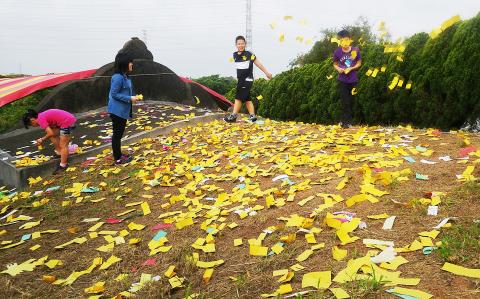 Family members yesterday spread ghost money over their ancestor's tomb in Taoyuan's Guanyin District on Tomb Sweeping Day.
Photo: CNA
People would not be able to pay respect to deceased family members on Tomb Sweeping Day if they chose tree burials, instead of tombs, and all that is left representing the deceased would be a tree, which could render the Tomb Sweeping Day socially irrelevant in time, the advertisement said.
The advertisement distorted facts about eco-friendly burials, the ministry said in a statement.
Ninety-six percent of people nowadays opt to have their remains cremated, but the vast majority of them choose to have their ashes stored in columbariums, which take up a lot of space in a small and densely populated nation, the ministry said.
If people would adopt tree or sea burials, it would not only be more space-efficient, but it would also place the nation be in sync with the international eco-friendly burial trend, it said.
There are no environmental concerns associated with tree burials, which funeral regulations stipulate must be conducted in designated areas, or where people's cremated remains must be buried underground, the ministry said.
The soil at eco-friendly burial sites is mixed with phosphate solubilizing bacteria to help degrade ashes, so they can be absorbed by plants, it said.
There are 31 public facilities nationwide that accommodate tree burials or ecological underground burials, while sea burials are available in nine cities and counties, it said.
As of January, there have been 39,352 tree burials and 1,919 sea burials, the ministry said, adding that there has been a steady increase annually in the number of people opting for natural burials.
People can still pay their respect to deceased family members at "green" or sea burial sites, so the Tomb Sweeping Day will not be lost, the ministry said.
Comments will be moderated. Keep comments relevant to the article. Remarks containing abusive and obscene language, personal attacks of any kind or promotion will be removed and the user banned. Final decision will be at the discretion of the Taipei Times.