Japanese-era architecture exhibition lands in Tainan
A traveling exhibition showcasing early 20th-century Taiwanese architecture through paintings opened at the Tainan Judicial Museum on Friday.
The exhibition provides glimpses into the lives of people in Taiwan during the Japanese colonial era and insight into the architectural designs of the time, organizers said.
The exhibition features 68 paintings of historic buildings in Taipei and Tainan by late artist Yu Chih-chung (游志忠).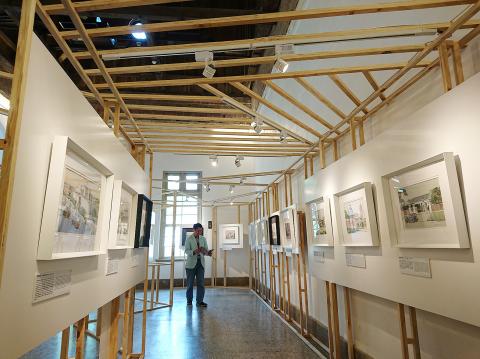 A visitor attends an exhibition of paintings of historic buildings in Taipei and Tainan by late artist Yu Chih-chung at the Tainan Judicial Museum on Friday.
Photo: Hung Jui-chin, Taipei Times
Yu unexpectedly passed away earlier this year as preparations for the exhibition were being made, organizers said, adding that they regret that he could not see it open.
Yu's meticulously painted works set an example of how to document the nation's historical architecture styles and will help preserve them for future generations, the organizers said, adding that they hope the exhibition could convey to the public Yu's passion for his work, which also shows in his writings.
The exhibition is sponsored by the Lealea Group and the Kuo Mu Sheng Foundation, and organizers said they hoped to preserve the past, adding that artworks can be more powerful than books in conveying history.
Architecture is intimately connected with contemporary culture, Lealea Group chairman Kuo Chuan-ching (郭銓慶) said, citing Tainan's Jhengsing Street and Guohua Street, which are popular among young people for their eateries and historically housed a market.
Organizers chose Tainan as the second stop for the traveling exhibition to highlight the importance of delving into the city's historical architecture, both remaining and lost, he said.
The essence of the exhibition is linked to that of the museum, which is why the Tainan District Court offered to provide the space to the organizers, it said.
It is the first private exhibition to be held at the museum, the court added.
The exhibition runs until July 19.
Comments will be moderated. Keep comments relevant to the article. Remarks containing abusive and obscene language, personal attacks of any kind or promotion will be removed and the user banned. Final decision will be at the discretion of the Taipei Times.