Wife in China to meet with Lee Ming-che
Lee Ching-yu (李凈瑜), the wife of detained Taiwanese human rights advocate Lee Ming-che (李明哲), who is jailed in China, yesterday departed for Changsha to visit her husband after receiving a single-entry travel permit from Beijing.
Lee is to visit her husband in Chishan Prison, Hunan Province, today.
A Chinese court on Nov. 28 last year sentenced Lee Ming-che to five years in prison and deprived him of his political rights for a further two years on charges of subverting state power.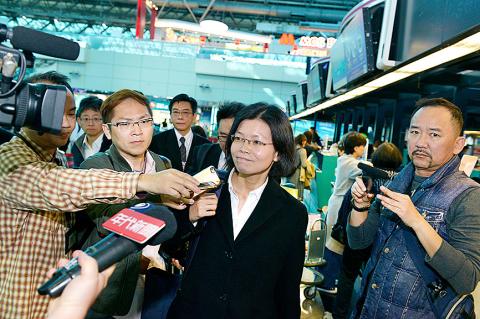 Lee Ching-yu, the wife of Taiwanese rights advocate Lee Ming-che, speaks to the press at Taiwan Taoyuan International Airport prior to boarding her flight to Changsha, China, yesterday.
Photo: AFP / Chris Stowers
Lee Ming-che had said at the court that he would not appeal the ruling.
Before departing from Taiwan Taoyuan International Airport yesterday morning, Lee Ching-yu said she is visiting her husband to convey his family's support and good wishes to him.
Lee Ming-Che's mother, Kuo Hsiu-chin (郭秀秦), did not accompany Lee Ching-yu.
China on Thursday last week informed Lee Ching-yu through a China-based Taiwanese business association that it would issue a one-off document allowing her to enter China after her previous application was rejected because she did not have a valid "Taiwan Compatriot Travel Document" — permits issued to Taiwanese by Chinese authorities for travel to China.
An official from Taiwan's semi-official Straits Exchange Foundation, which handles relations with China, is accompanying Lee Ching-yu, the foundation said.
Lee Ching-yu is to visit her husband today and return home tomorrow, a foundation official said.
Meanwhile, the Mainland Affairs Council said it has arranged for a Taiwanese business association in Changsha to help Lee Ching-yu during her trip.
It has communicated with China through a formal cross-strait channel to ensure Lee Ching-yu's access to her husband, and the safety of her and her companions while in China, the council added.
Comments will be moderated. Keep comments relevant to the article. Remarks containing abusive and obscene language, personal attacks of any kind or promotion will be removed and the user banned. Final decision will be at the discretion of the Taipei Times.