Yunlin's Huanan Community instills eco-awareness with nature ceremony
Yunlin County Commissioner Lee Chin-yung (李進勇) on Wednesday presided over the first part of the Dahuashan (大華山) ceremony in Gukeng Township (古坑), a joint program to help instill a reverence for nature and a heightened environmental consciousness in children.
The program, cosponsored by the Huanan Community, Huanan Elementary School and TransWorld University, has been held for the past eight years.
Aside from the Cherish the Mountain Ceremony, held on the spring equinox on Wednesday, the program includes two other ceremonies: the Ceremony of Apprising the Divine, held on the "grain rain" solar term, and the Ceremony of Thanks, held on the "start of winter," or 19th, solar term.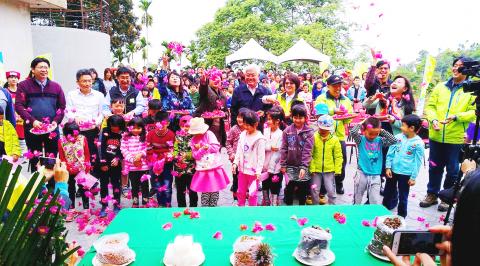 Yunlin County Commissioner Lee Chin-yung, center, on Wednesday presides over a Cherish the Mountain Ceremony in the county's Gukeng Township as an expression of reverence for nature.
Photo: Liao Shu-ling, Taipei Times
The "24 solar terms" (二十四節氣) are used to reflect changes in seasons and alert farmers when to plant or harvest their crops.
The spring equinox, or the first day of spring in the northern hemisphere, typically falls halfway through the second month of the lunar calendar, while "grain rain" occurs halfway through the third month and "start of winter" at the beginning of the 10th month.
Huanan Elementary School principal Chen Ching-chun (陳清圳) said the program offers a great outdoor education experience, especially as the ceremony allows children to be outdoors during the spring equinox and closer to nature.
The ceremonies are held on land that showcases the surrounding terraced fields, Chen said, expressing his gratitude for the landowner's generosity.
Lee Yu-kun (李玉崑), a 76-year-old resident of the Huanan Community, took the opportunity to put on an exhibition of his works, while Kuo Hsiao (郭笑) brought out her tea set and brewed tea for participants, Chen said.
Chen Tai-an (陳泰安), a professor at TransWorld University's ecotourism department and program organizer since its start, said he arranged to have a table where older members of the community could serve tea to all attendees.
"Hand in hand, the old and the young can both experience and reflect on the relationship between people and nature, as well as being grateful for nature's generosity," Chen Tai-an said.
Comments will be moderated. Keep comments relevant to the article. Remarks containing abusive and obscene language, personal attacks of any kind or promotion will be removed and the user banned. Final decision will be at the discretion of the Taipei Times.