Tim Chow dismissed ahead of soccer qualifier
TWO VERSIONS: The CTFA and Taiwan's head coach said he did not report to them in time for a match against Singapore, but the player says he followed FIFA rules
People in Taiwanese soccer circles were left perplexed and exasperated yesterday when the Chinese Taipei Football Association (CTFA) dismissed British player Tim Chow from the national squad for an upcoming Asian Cup qualifier against Singapore.
The CTFA and Taiwan's English head coach Gary White on Thursday informed Chow that he would not be included in the roster for the Singapore match on Tuesday next week, because he had failed to report to them on Tuesday, among other reasons.
Chow, born in Wigan, England, is a starting midfielder for Scottish Premiership club Ross County.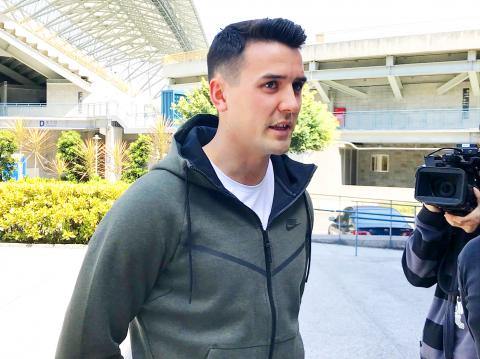 Tim Chow, who planned to play for Taiwan's national soccer team against Singapore next week, speaks to the media outside Taipei Municipal Stadium yesterday.
Photo: Liao Yu-wei, Taipei Times
He was eagerly courted by the CTFA and the Taiwanese government last year.
He was granted citizenship and was asked to play for the national squad after it was discovered that his grandfather was born in China and lived in Shanghai before moving to Taiwan after World War II. His grandfather then emigrated to England in 1956.
Local media reported that Chow took a flight from England and arrived in Taiwan on Tuesday, because he was scheduled to report to the team yesterday — a plan that had been discussed and agreed upon by both sides.
Chow said he decided to talk to reporters at the Taipei Municipal Stadium yesterday morning because he felt helpless and disappointed at being dismissed.
"This was going to be my first time to suit up to represent Taiwan at the home ground, and I was very excited and expecting a good result," Chow said, "These complications have made me feel helpless and quite disappointed."
"My parents also took a flight from England and they will arrive here today. It is the first time my mother will come to Taiwan," Chow said. "My parents really want to see me represent Taiwan in a football match."
He is prepared, and ready to play for the national squad if the CTFA and White change their mind, Chow said.
"I really want to experience the atmosphere of this home match and put in my best effort for Taiwan football," he said.
The CTFA and White talked about Chow's situation in yesterday afternoon's media briefing, which was supposed to focus on the squad's preparedness for the Singapore match.
Chow was not picked for the Singapore clash because "Chow was not ready," White said, adding that the team is more important than any one player.
White said he had discussed the situation with CTFA secretary-general Chen Wei-jen (陳威任), and made the decision on Thursday, due to Chow being unable to comply with national squad's training schedule, and because he failed to report to the team on Tuesday.
The CTFA had sent a reception team with a car to Taoyuan International Airport on Tuesday, but Chow did not show up, White said, adding that he then telephoned Chow to inform him to report to the hotel the team was staying in before 9:30pm that night.
"If someone has agreed to appear at a certain time, but he does not show up as promised, then that is a big problem for me," White said.
However, Chow said: "I have complied with FIFA rules, and the signed agreement with CTFA. Therefore it is not true … that I made unreasonable demands upon my arrival in Taiwan."
Comments will be moderated. Keep comments relevant to the article. Remarks containing abusive and obscene language, personal attacks of any kind or promotion will be removed and the user banned. Final decision will be at the discretion of the Taipei Times.