NHI audit finds duplicate claims
ALARMING AUDIT: Hospitals were unable to provide reasonable explanations for the more than 1,300 duplicate reimbursement claims they had submitted
The National Health Insurance Administration yesterday said it had discovered that 16 medical institutions filed more than 1,300 duplicate reimbursement claims for prostate biopsies from January 2016 to October last year.
Even large medical centers were among those who made the unusual claims, the administration said, adding that a purposive sampling method was used for the audit.
The hospitals were unable to provide reasonable explanations for the duplications, the administration's Medical Review and Pharmaceutical Benefits Division Director Tai Hsueh-yung (戴雪詠) said, adding that a total of 1,354 false claims involving 1,294 patients were made.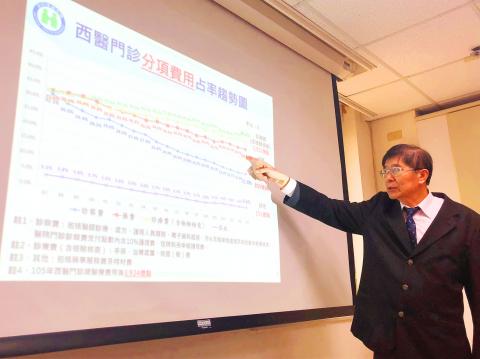 National Health Insurance Administration (NHIA) Director-General Lee Po-chang explains the NHIA's audit in Taipei yesterday.
Photo: CNA
Two medical centers in southern Taiwan accounted for 85 percent of the total number of false claims, she added.
The agency said it had recovered NT$2.19 million (US$75,000) of the false claims.
In the past, the administration used a random sampling method for 80 percent of the claims it audited and a purposive sampling method for 20 percent, Tai said.
Now, to improve the accuracy of its audits, the agency has raised the proportion of its purposive sample to 70 percent and lowered its random sample to 30 percent, she added.
Meanwhile, the administration also found that some dentists claimed as many as 73 impacted wisdom teeth removals per month, while more than 80 percent of dentists handle an average of five impacted wisdom teeth per month, Tai said.
Dentists can claim NT$8,100 for the removal of each impacted wisdom tooth, she said, adding that the agency would continue to investigate the situation.
The medical world often criticizes the National Health Insurance system for not reimbursing them enough for their claims, NHIA Director-General Lee Po-chang (李伯璋) said.
However, to improve the healthcare environment, unnecessary expenditure must be avoided, Lee said.
Comments will be moderated. Keep comments relevant to the article. Remarks containing abusive and obscene language, personal attacks of any kind or promotion will be removed and the user banned. Final decision will be at the discretion of the Taipei Times.