Signatures for plebiscite on food delivered
Chinese Nationalist Party (KMT) Vice Chairman Hau Lung-bin (郝龍斌) yesterday turned over 18,750 signatures for a referendum drive to the Central Election Commission to back a call for a referendum on boycotting food imports from Fukushima Prefecture and four surrounding Japanese prefectures that were affected by the Fukushima Dai-ichi nuclear power plant disaster in 2011.
"The number of signatures is tenfold the legal requirement. It symbolizes the public outrage directed at the Democratic Progressive Party [DPP] administration," Hau told a news conference at the commission's office after presenting boxes containing the signed pages to commission official Chuang Kuo-hsiang (莊國祥).
Hau said that he was not against trade with Japan, but that he is against importing radiation-contaminated food products.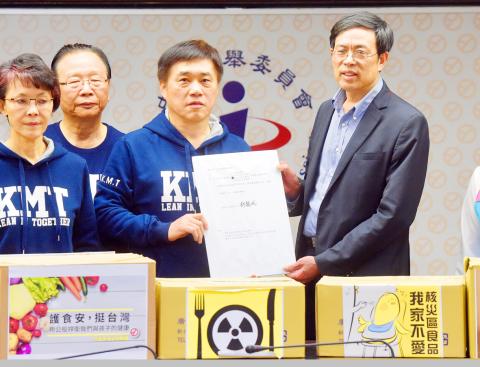 Chinese Nationalist Party (KMT) Vice Chairman Hau Lung-bin, third left, yesterday presents a petition to Central Election Commission official Chuang Kuo-hsiang, right, at the commission's office in Taipei calling for a referendum on food imports from five Japanese prefectures.
Photo: Huang Yao-cheng, Taipei Times
Hopefully, a referendum would help ban such products from entering Taiwan and safeguard public health, he said.
Several KMT lawmakers attended the news conference to express their support for the referendum drive.
Whether such imports should be allowed is an issue best decided by the voting public exercising their civil rights, making it an ideal referendum question, KMT caucus whip Lin Te-fu (林德福) said.
Quoting Minister of Health and Welfare Chen Shih-chung (陳時中), KMT Legislator Lai Shyh-bao (賴士葆) said that the Ministry of Health and Welfare might adjust its control mechanisms for Japanese food imports from location-based to product-based, indicating that it could be paving the way for lifting the ban on food imports from the five prefectures.
The commission should not intervene in the KMT's referendum drive though the use of red tape, such as delaying it with a prolonged review, Lai said.
Amendments to the Referendum Act (公民投票法) last year lowered the threshold for referendum initiation from 0.005 percent of the electorate in the most recent presidential election, or about 90,000 people, to 0.0001 percent or about 1,800 people.
The proposal needs 280,000 signatures to be seconded.
During a question-and-answer session with KMT Legislator Wang Hui-mei (王惠美) yesterday, Council of Agriculture (COA) Minister Lin Tsung-hsien (林聰賢) said that he was against importing potentially radiation-contaminated food or lifting the import ban in exchange for Taiwan's membership in the Comprehensive and Progressive Agreement for Trans-Pacific Partnership (CPTPP).
Negotiations with CPTPP member states should be based on the condition that the terms would be mutually beneficial, equal and reasonable, Lin said.
However, Taiwan would likely have to comply with "international norms" if it wants to secure membership in the trade agreement, so that it is on equal footing with the 11-member states, he said.
"If [the import of Japanese food-products from the five prefectures] is the international norm, can we resist that?" he said.
Saying that the public is concerned about the possibility of the ban being lifted, Wang urged the council to safeguard public health in any trade talks with Japan.
Comments will be moderated. Keep comments relevant to the article. Remarks containing abusive and obscene language, personal attacks of any kind or promotion will be removed and the user banned. Final decision will be at the discretion of the Taipei Times.