Singaporean firm says sorry over ROC flag flap
A prominent Singaporean media group, Mediacorp Pte, on Wednesday apologized to Taiwan's representative office in Singapore and the Chinese embassy after a travel show on one of its channels plastered a Republic of China (ROC) flag over the map of China in a promotional trailer.
A trailer for My Star Guide displayed a graphic showing the geographic outlines of China and Taiwan filled in by the ROC flag.
Online discussions about the meaning of the graphic soon erupted — whether it was saying that China belongs to Taiwan or that all of China, including Taiwan, are one under the ROC.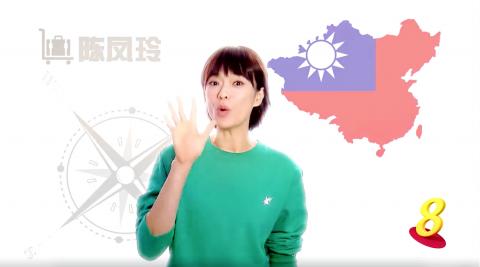 A show host talks on a trailer for Singapore Channel 8's travel show My Star Guide against the background showing the Republic of China flag covering the outlines of Taiwan and China.
Photo: Screengrab from mothership.sg
The trailer has since been taken down.
Mediacorp told Mothership — a Singapore online media outlet — that a mistake "occurred during the production of graphics used in the trailer."
The Taipei Representative Office in Singapore said it had received the apology, but as of press time last night China had not responded to the incident.
Comments will be moderated. Keep comments relevant to the article. Remarks containing abusive and obscene language, personal attacks of any kind or promotion will be removed and the user banned. Final decision will be at the discretion of the Taipei Times.