TSU rumored to field Tainan candidate
Supporters on Thursday created a public Facebook group for former Taiwan Solidarity Union (TSU) legislator Hsu Chung-hsin (許忠信), sparking speculation that he might run against Democratic Progressive Party (DPP) Legislator Huang Wei-che (黃偉哲), who on Thursday won his party's Tainan primary, in the Nov. 24 mayoral elections.
Supporters of Hsu, who is a law professor at National Cheng Kung University, have reportedly been pushing for him to run for Tainan mayor since last year.
The "Professor Hsu Chung-hsin, Tainan Mayor Fan Club" featured a photograph of Hsu, former president Chen Shui-bian (陳水扁) and others taken at a gathering as its profile picture.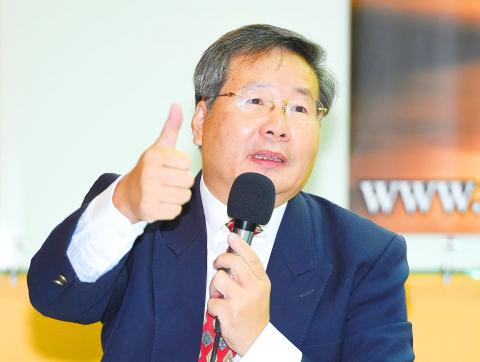 National Cheng Kung University law professor and former Taiwan Solidarity Union legislator Hsu Chung-hsin speaks in Tainan on Nov. 19 last year.
Photo: Liao Chen-huei, Taipei Times
In an interview on the sidelines of a commemoration of the 71st anniversary of the 228 Incident last month, Hsu said some people were concerned about Huang's pro-localization stance if he were to represent the DPP in the Tainan mayoral elections.
However, Hsu said at the time he had not yet decided whether to run in the election.
The DPP on Thursday announced that Huang had defeated six competitors in the Tainan mayoral primary and would on Wednesday be nominated as the party's candidate.
Lee Teng-hui Association for Democracy board member Wang Shou-kuo (王壽國) on Friday said that Hsu had told him he would "report my decision to you after the Chinese Nationalist Party [KMT] confirms its candidate [for the Tainan mayoral election.]"
"The ratio of pan-green [supporters] to pan-blue [supporters] in Tainan is seven to three," Wang said, adding that Hsu would only need to defeat Huang to be elected, as the KMT would not affect the results.
Former president Lee Teng-hui (李登輝) helped found the TSU in 2001 and is regarded as the party's spiritual leader.
Comments will be moderated. Keep comments relevant to the article. Remarks containing abusive and obscene language, personal attacks of any kind or promotion will be removed and the user banned. Final decision will be at the discretion of the Taipei Times.