PBS host wins tourism award
RETURNING CUSTOMER: Joseph Rosendo has won several Emmys for his travel series, which featured Taiwan in 2012, 2015 and 2016, and a Telly Award for a 2012 episode
The Award for Special Contributions to Taiwan Tourism this year was given to US Public Broadcasting Service (PBS) presenter and director Joseph Rosendo for featuring the nation's tourist attractions in Joseph Rosendo's Travelscope, a travel show.
Rosendo last year won two Daytime Creative Arts Emmy Awards for the ninth season of the TV show, which aired in 2016 and included an episode titled Taiwan Penghu Islands.
Rosendo won the Emmys for outstanding directing of a lifestyle/culinary/travel program and outstanding host in a lifestyle/travel/children's series, the Tourism Bureau said, adding that he also secured an Emmy for outstanding host in 2014 for an episode featuring the Taiwan Lantern Festival.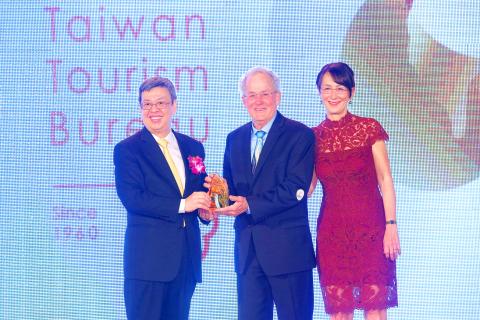 Vice President Chen Chien-jen, left, yesterday presents the Award for Special Contribution to US Public Broadcasting Service presenter and director Joseph Rosendo, center, at the Grand Hotel in Taipei.
Photo: CNA
"Travelscope has increased publicity about Taiwan in the international community, greatly contributing to the development of tourism in Taiwan," the bureau said in a statement.
In addition to the lantern festival and the Penghu Islands, Rosendo's team explored the nation's railways in an episode titled Iron Pathways to Adventure in 2015.
The team received a Bronze Telly Award for a 2012 episode titled Taiwan's Aboriginal People.
In his acceptance speech at the Tourism Festival Award Ceremony yesterday, Rosendo attributed his success in producing 10 award-winning episodes about Taiwan to a "creative, dynamic and fruitful alliance with the Tourism Bureau."
"Like many foreigners, I believed Taiwan is a country of Taipei 101, a dynamic, modern, high-tech giant and one of Asia's economic tigers," he said. "While we discovered that is indeed true, Taiwan is much, much more: from the villages to cities, from its islands to its mountains, from the endemic wildlife to indigenous people and from sacred temples to lively markets."
Rosendo said Taiwan is "a treasure chest of travel gems that gives visitors experiences that forever fulfill and enrich their lives" and is also the repository of the "spiritual heart and soul" of Chinese culture.
"We have witnessed the devotion that Taiwanese people give to their heritage and to their history through their festivals, like the Lantern Festival," he said.
Season 10 of Travelscope, to be aired from next month, is to feature the Taichung International Matsu Festival, one of the largest religious pilgrimages in the world, he said.
Like US author Mark Twain, who famously said that "Travel is fatal to prejudice, bigotry and narrow-mindedness," Rosendo said he believes that travel is an antidote to fear and hatred.
The TV show's mission has always been to celebrate people and their cultures, which is drastically different from the tone set by the current administration in the US, Rosario said.
"While a segment of our American government seems to shamelessly express the opinion that Americans are uninterested in the world and its peoples, I promise you the overwhelming majority of Americans are ready to protect our planet and to embrace people and cultures," he said.
The Taiwan Lantern Festival opens tonight in Chiayi County.
Comments will be moderated. Keep comments relevant to the article. Remarks containing abusive and obscene language, personal attacks of any kind or promotion will be removed and the user banned. Final decision will be at the discretion of the Taipei Times.