KMT cries foul over defilement of Chiang's tomb
The Chinese Nationalist Party (KMT) caucus yesterday blamed the defacement of Chiang Kai-shek's (蔣介石) sarcophagus on Wednesday on the Act on Promoting Transitional Justice (促進轉型正義條例), which it said was the Democratic Progressive Party's (DPP) tool to sow hatred and widen divisions. Pro-independence supporters threw red paint over the sarcophagus.
"The prerequisite to promoting transitional justice is to present the contributions alongside the mistakes [of a past ruler], so that historical events can be put into perspective, and dialogue and reconciliation can be achieved," KMT Legislator Apollo Chen (陳學聖) told a news conference at the Legislative Yuan in Taipei.
However, the DPP's attitude before and after the act was passed in December last year shows that it is bent on highlighting Chiang's flaws while ignoring his feats, Chen said.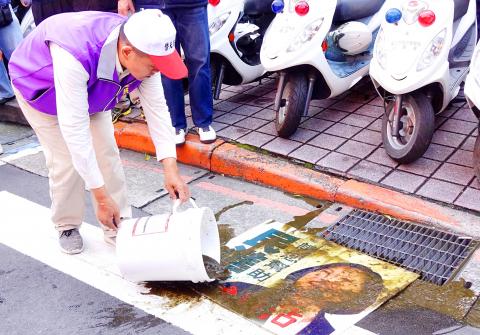 Citizens for Recalling Tsai Ing-wen director Lu Chao-tsai yesterday spreads feces on a photograph of President Tsai Ing-wen during a protest outside the Legislative Yuan in Taipei, in retaliation for Taiwanese independence supporters' vandalism of Chiang Kai-shek's sarcophagus on Wednesday.
Photo: Chien Jung-fong, Taipei Times
"The caucus condemns in the strongest terms the vandalism of Chiang's mausoleum and believes that the suspects were encouraged by the DPP," he said.
Chiang defended the nation against Chinese Communist Party forces, regulated rent paid by tenant farmers, redistributed private farms to ensure a more equitable distribution of land and saw to it that artifacts in the National Palace Museum were safeguarded while being transported from China to Taiwan, he said.
DPP officials have purposefully ignored all these whenever they are asked to name Chiang's contributions, he said, adding that this would only fill the hearts of young people with hatred and anger.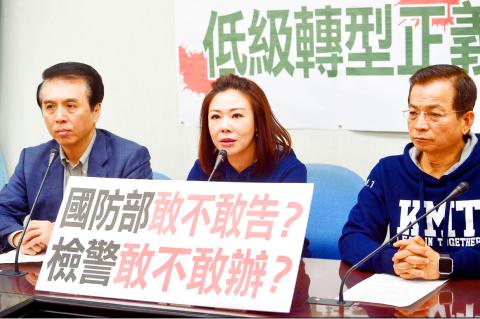 Chinese Nationalist Party (KMT) caucus secretary-general Lee Yen-hsiu, center, is joined by KMT legislators Apollo Chen, left, and Lai Shyh-bao, right, at a news conference in Taipei yesterday as she comments on the incident at Chiang Kai-shek's mausoleum in Taoyuan's Dasi District on Wednesday, when red paint was hurled at Chiang's sarcophagus. The sign reads "Will the MND [Ministry of National Defense] dare file a lawsuit? Will prosecutors dare prosecute?"
Photo: Peter Lo, Taipei Times
If the DPP really wants to promote transitional justice, it should not condone the wrongdoing of groups responsible for vandalizing Chiang's mausoleum; otherwise, it could intensify ideological conflicts and plunge the nation into chaos, Chen said.
KMT Legislator Lai Shyh-bao (賴士葆) also attributed Wednesday's incident to the act, which contains an article stipulating that authoritarian symbols should be removed — a point noted by President Tsai Ing-wen (蔡英文) during her speech at a Taipei ceremony in Taipei to mark the 71st anniversary of the 228 Incident on Wednesday.
By citing the article, Tsai was "reopening old wounds" and provoking ideological conflicts, Lai said.
Why have the authorities not arrested people suspected of vandalizing Chiang's sarcophagus, which is guarded by the Ministry of National Defense's Armed Forces Reserve Command, Lai asked.
Is it because the DPP wants to downplay every incident started by independence supporters, like its dropping of charges filed by the former KMT administration against Sunflower movement campaigners for storming the Executive Yuan during the 2014 movement, he added.
The DPP tore ethnic groups apart when it was in the opposition, which paved the way for the regrettable, astonishing and disappointing incident on Wednesday, KMT caucus secretary-general Lee Yen-hsiu (李彥秀) said.
Chiang's mausoleum was built in Taoyuan's Cihhu (慈湖) area by former vice president Annette Lu (呂秀蓮), a DPP member, during her term as Taoyuan commissioner, Lee said, adding that the site boasts of historic and tourism value.
She said she was surprised at the ministry's slow response in handling the incident.
Armed Forces Reserve Command chief-of-staff Ting Ta-cheng (丁大成) said the command was finalizing charges against the suspects, who pretended to be tourists and entererd the room housing Chiang's sarcophagus when the guards were changing shifts.
He said the command was negligent in not allocating enough manpower to guard Chiang's mausoleum, adding that it would make improvements.
Chiang's sarcophagus is expected to be restored today, and the command would notify the public about the mausoleum's reopening date, Ting said.
Comments will be moderated. Keep comments relevant to the article. Remarks containing abusive and obscene language, personal attacks of any kind or promotion will be removed and the user banned. Final decision will be at the discretion of the Taipei Times.