Tainan's Koxinga chips popularity leads to crunch
The Tainan Cultural Affairs Bureau has been overwhelmed by the demand for potato chips named after Ming Dynasty loyalist Cheng Cheng-kung (鄭成功, also known as Koxinga) that were created to promote the city's historical sites.
The original idea was to use a cartoon turtle character on the chip bags, but not everyone knows about the Chihkan Tower's (赤崁樓) stone turtles, bureau officials said.
Cheng is a well-known figure and his given name, Cheng-gong (成功, "success"), represents a positive energy, so the bureau came up with a packaging design, based on a portrait in the Koxinga Museum, that shows the warlord with one hand giving the sign language gesture that can mean "love you" or "success."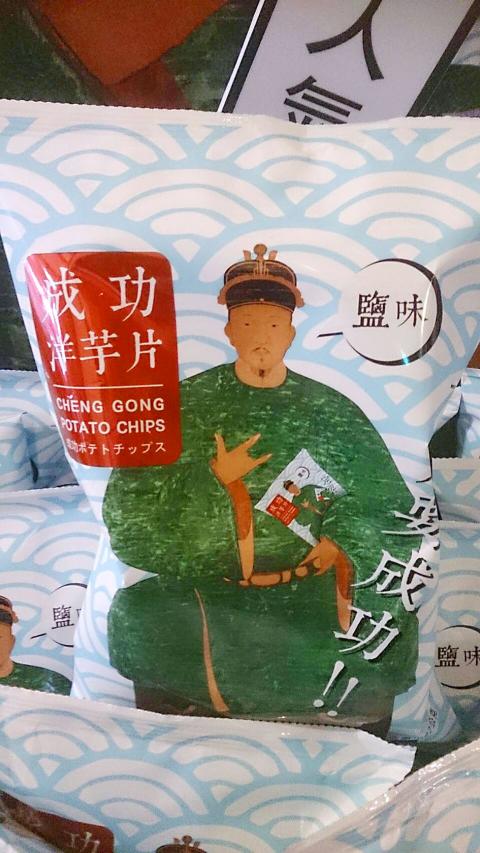 Potato chip bags bearing an image of Cheng Cheng-kung are on sale in Tainan on Saturday.
Photo: Hung Jui-chin, Taipei Times
Produced by Lian Hwa Foods Co, the limited-edition chips are NT$35 per bag and are only available at six places: Chihkan Tower, Koxinga Shrine (延平郡王祠), Anping Fort (安平古堡), Anping Tree House (安平樹屋), Eternal Golden Castle (億載金城) and the Tainan Creativity Center, which is located on a site once occupied by the Tainan Patriotic Women's Association, the bureau said.
Given the demand for the chips, the bureau has limited purchases to two bags per person.
It already ordered an additional 6,000 to 7,000 bags to cover the period from the first of the month though the Lunar New Year holiday, and placed another order for the same amount on Saturday, the bureau said.
The bureau said it would do its best to replenish stocks every 10 days to ensure a stable supply.
Comments will be moderated. Keep comments relevant to the article. Remarks containing abusive and obscene language, personal attacks of any kind or promotion will be removed and the user banned. Final decision will be at the discretion of the Taipei Times.