Shihsanhang Museum to display deed from 1803
The New Taipei City's Shihsanhang Museum of Archeology yesterday added a 200-year-old land deed to one of its interactive exhibits, highlighting aspects of Han-Aborigine interactions during the period, the museum said.
Seals were not in use by Aborigines in Taiwan 200 years ago, so people would sign documents with impressions of their hands, the museum said, adding that deeds would have been written by Han brokers.
The 1803 deed for land sold by Aborigine brothers A-fu (阿福) and A-lu (阿祿) in what is now New Taipei City's Bali District (八里) shows that the men sold the land to get money for seeds, the museum said.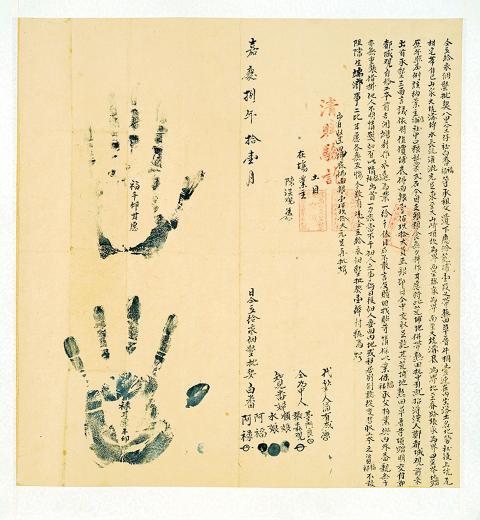 A land deed dating from 1803, showing the hand impressions of the Aboriginal "signatories," is displayed at the Shihsanhang Museum of Archeology in New Taipei City in an undated photo.
Photo courtesy of the Shihsanhang Museum of Archeology
The document refers to the two men as Baifan, one of the classifications for Aborigines used by Han people in the late Qing Dynasty to refer to those who lived a lifestyle similar to that of Han people.
Baifan people would have been what are now referred to as the Pingpu, or plains Aborigines, the museum said, adding that the use of the term indicates that the deed was drafted by a Han person.
The "stamping" of the document by both parties' hands would indicate that it was binding, they said.
The deed shows that the land was sold for 190 Spanish coins, one of the currencies in use in Taiwan at the time, the museum said, adding that other currencies in use included Qing money, private bank currencies and various other European currencies.
Spanish coins were the most commonly used currency for land sales, it said.
The deed is to be added to an interactive exhibit showcasing the history of the district that was installed in June last year, curator Chen Chun-lan (陳春蘭) said.
The exhibit runs until June 3, but will close on Thursday and Friday for the Lunar New Year holiday.
Comments will be moderated. Keep comments relevant to the article. Remarks containing abusive and obscene language, personal attacks of any kind or promotion will be removed and the user banned. Final decision will be at the discretion of the Taipei Times.