Miaoli County head commends Atayal doctor on degree
Miaoli County Commissioner Hsu Yao-chang (徐耀昌) last month commended Atayal doctor Chen Wan-lin (陳琬琳) for being the first in her community to receive a doctorate of medicine.
Chen, 43, graduated from the National Taiwan University School of Medicine and has served as a physician at the National Taiwan University Hospital, Saint Mary's Hospital in Yilan's Luodong Township (羅東) and at the Renai branch of Taipei City Hospital.
She is currently the medical director of International SOS (Taiwan), an International College of Surgeons fellow and a research auditor for the Ministry of Health and Welfare's air ambulance service.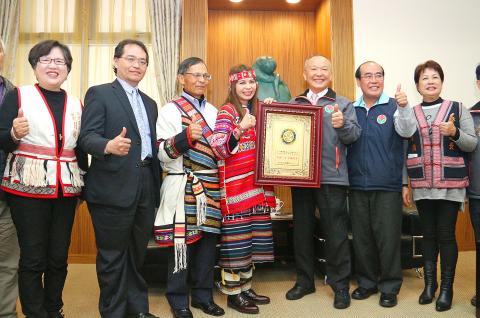 Miaoli County Commissioner Hsu Yao-chang, third right, presents an award to Chen Wan-lin, center, the first Atayal doctor of medicine in Taian Township, at Miaoli County Hall on Tuesday last week.
Photo: CNA
Chen said her younger sister, as well as her older and younger brothers, are all doctors.
Her father, Chen Chin-liang (陳欽亮), is the vice chief of the Atayal community in the township's Dasing Village (大興).
Chen recounted falling ill when she was a child and being taken to a nearby town for treatment.
The experience made her conscious about the lack of medical resources in her village, Chen said.
When she began her medical studies she decided to focus on neurosurgery, she said.
"When a patient is in a critical condition, it is the hands of the surgeon that saves their life," she said, adding that performing surgery allows her to grow and gives her a sense of accomplishment.
Later, she developed an affinity for flying and decided to combine her interests by becoming an air ambulance medic, she said.
Through her work with International SOS she has helped former premier Tang Fei (唐飛), model and actress Lin Chi-ling (林志玲) and the father of singer and actress Vivian Hsu (徐若瑄).
"But I have never forgotten where I came from," Chen said, adding that she is grateful to her parents for the emphasis they placed on education.
Hsu said Chen's thesis on the use of video conferencing to provide medical assistance to people living in remote areas can be of help to Aboriginal communities throughout the county.
The health department offices in Taian, Nanjhuang (南庄) and Shihtan (獅潭) villages can assist in their implementation through their familiarity with video conferencing technology, he said.
Chen's achievements serve as a "living curriculum" and a source of encouragement for young Atayal, Chinese Nationalist Party (KMT) County Councilor Huang Yueh-e (黃月娥) said.
Huang said she younger members of the community could follow Chen's lead and change their lives through study.
Comments will be moderated. Keep comments relevant to the article. Remarks containing abusive and obscene language, personal attacks of any kind or promotion will be removed and the user banned. Final decision will be at the discretion of the Taipei Times.