New Taichung bus stops to cut emissions
Taichung expects to save 300,000 kilowatt-hours (kWh), or NT$1.05 million (US$35,916) in electricity fees, per year, after completing 210 new bus stops that have solar panels and sport new lighting systems, furthering the municipal goals for green transport, Taichung Transportation Bureau Director-General Wang Yi-chuan (王義川) said on Friday.
The bus stops that the former Taichung County built were too simple and many lacked lighting, Wang said, adding that the municipal government built the new stops at a cost of NT$80,000 per stop.
The old bus stops consumed 1,429kWh per year, costing the municipality NT$5,000, Wang said.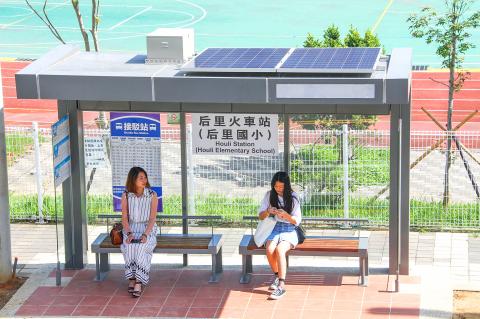 Two women wait for a bus at the solar panel-powered Houli Elementary School bus stop in Taichung in an undated photograph.
Photo: Huang Chung-shan, Taipei Times
The solar panels on the new bus stops generate electricity for lighting and could save about 755kg of carbon dioxide equivalent emissions per stop, as well as lowering the electricity bill, Wang said.
The Taichung City Government gave priority to rural areas in replacing bus stops, not only saving 160 tonnes of carbon dioxide equivalent, but also making passengers waiting for buses late at night feel safer because of the better lighting, Wang said.
A lack of lighting in the past forced passengers to step outside bus stops to flag buses down, the department said, adding that passengers could now safely wait under the cover of the bus stops.
The new bus stops are bright, safe and environmentally friendly, and they change the image of the city, a student surnamed Ko (柯) said, urging the municipality to build more.
Taichung is uniquely positioned to develop renewable sources of energy, the city government said, adding that with the new stops, it now boasts the greatest number of solar-powered bus stops in the nation.
New Taipei City and Tainan each has more than 10, but less than 20, Kaohsiung has 30 and Taipei has fewer than that, the city said.
Depending on the efficiency of the solar panels, the municipal government is considering installing additional LED displays with information on the buses' whereabouts, the municipality said.
Comments will be moderated. Keep comments relevant to the article. Remarks containing abusive and obscene language, personal attacks of any kind or promotion will be removed and the user banned. Final decision will be at the discretion of the Taipei Times.